Heidi Montag and Spencer Pratt are having financial problems.

Fortunately, they've been offered a high-paying gig that could not only ease said fiscal woes, but get them out of the U.S. for awhile. They win and so do we!

With Speidi recently admitting that they're broke, and even tried to fake a divorce to keep the money train a comin', a gambling site may ride to the rescue.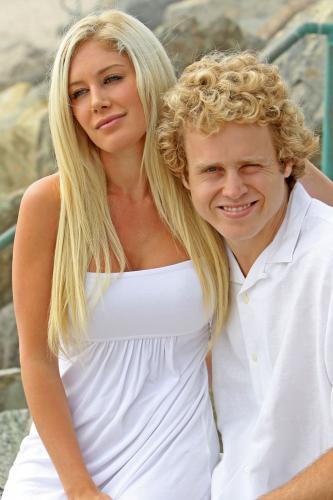 Will Speidi take on actual jobs? [Photo: PacificCoastNewsOnline.com]
YouWager (dot) com has offered the couple jobs. As in work, in exchange for money. While this may be a foreign concept to them, it's an enticing offer.
Heidi and Spencer would be given a cool
$100,000 each
to 'manage the odds and lines surrounding the entertainment sector.' Yup, they'd set odds.
The gruesome twosome would be living in Costa Rica, where the company is based (for legal issues, obviously), handicapping critical gambling topics 'ranging from celebrity news and pop culture to music and movies.'
They'd obviously be good at that. Spencer's main hangup, however? Due to the political turmoil between Costa Rica and Nicaragua, he's 'looking into how he can legally own a firearm over there so that he can protect himself.'
How awesome is this guy?