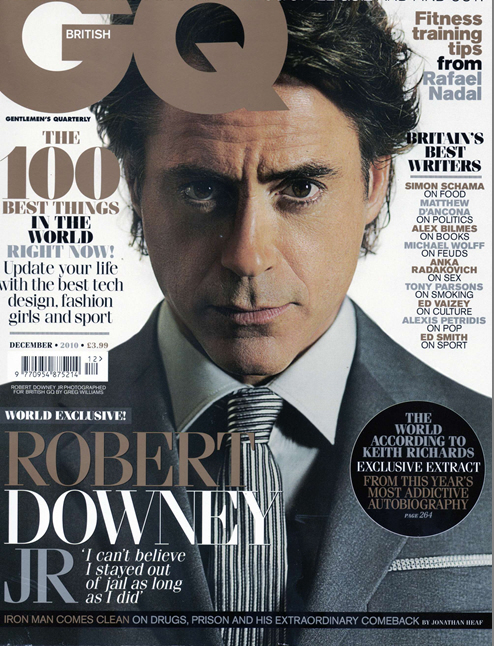 Robert Downey Jr. is the December cover boy for
GQ UK
, all to promote
Due Date. Due Date
was
a solid success in its American debut weekend
, earning $33.5 million and coming in second place, behind
Megamind
. So… basically, everything RDJ touches turns to gold at this point. In some of the excerpts from the cover interview, RDJ talks about a potential Oscar win, and how much he enjoyed working with Zach Galifianakis.
Robert Downey Jr has predicted that he will be the undeserving winner of numerous Academy Awards in the future. The Due Date star, who has received two Oscar nominations for his work in 1992 biopic Chaplin and 2008 comedy Tropic Thunder, joked that he will eventually win big when there is nobody left to oppose him.

"As long as I stick around, I'm going to end up with a bunch of them anyway as they're going to run out of people to give them to," he told GQ.

"And I'm probably going to win it one year when someone else deserves to win it. Why? Because it's my time. And that's the way s**t works around here. I'm just an uptight mutt at the top of his game."

However, Downey Jr insisted that he is no longer bitter about his losses and doesn't care if he ever receives recognition from the Academy.

"I want to qualify that there is no physical pain in not winning something. There is psychological turmoil and lack of understanding, but what is really going on here? I can lie, and pretend I worry but I don't care. Honestly."

He continued: "There was a time when I thought the only way out of hell was to win a certain type of award. And then I thought, 'What a pitiful existence'."

ROBERT DOWNEY, JR. also relished working alongside wacky comic actor ZACH GALIFIANAKIS in their new movie DUE DATE - because he rarely gets to play the "straight man".

The pair shares the screen in the outlandish new comedy, which tells the story of an expectant father teamed with an unlikely travelling companion as he races to be by his wife's side for the birth.

Galifianakis plays for laughs in a series of oddball set-ups, and rather than feeling jealous of his co-star's scene-stealing performance, Downey, Jr. insists he enjoyed keeping his role understated.

He tells Britain's GQ magazine, "It's kind of embarrassing to say this, as I always thought of myself as being that type of actor, but Zach is probably one of the freest artists I have ever experienced. The funny thing for me was having the confidence to play the straight man for once, and it gave me a whole new set of insights into the people whose responsibility it is to hold the mooring lines while the other great talents have chewed up the scenery - and I've been that guy."
[From
Contact Music
&
Digital Spy
]
Okay, I just got completely choked up thinking about what RDJ's speech would sound like if he ever did win the Oscar, so I know he actually cares. He's just pretending to be all Clooney about it in the hopes that he'll actually win at some point - which I think he will, eventually.
Also - I'd never really thought about it that way, but RDJ has changed - he definitely used to take the oddball, comic-relief roles in his previous incarnation, and now he's taking the straight-man leading roles. I'm glad he's cool with it. Meanwhile, I think I'm going to watch Home for the Holidays this weekend. Ah… RDJ back when he was coked-out and insane.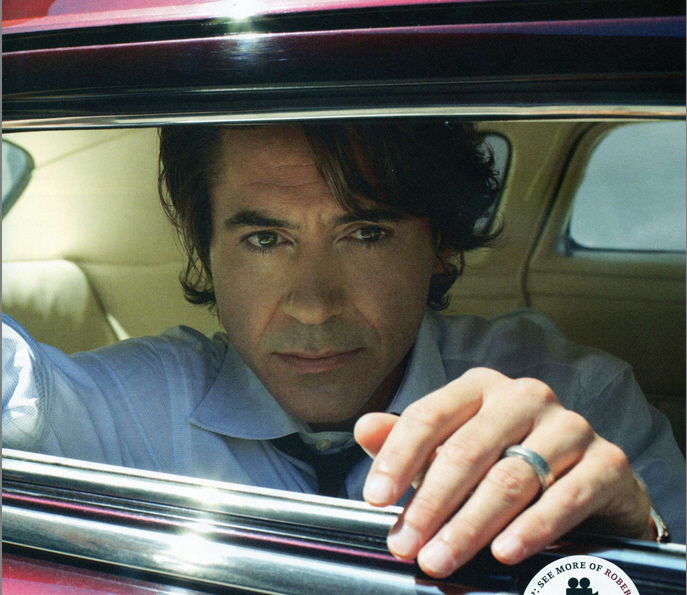 GQ photos courtesy of
RDJ's fansite
.