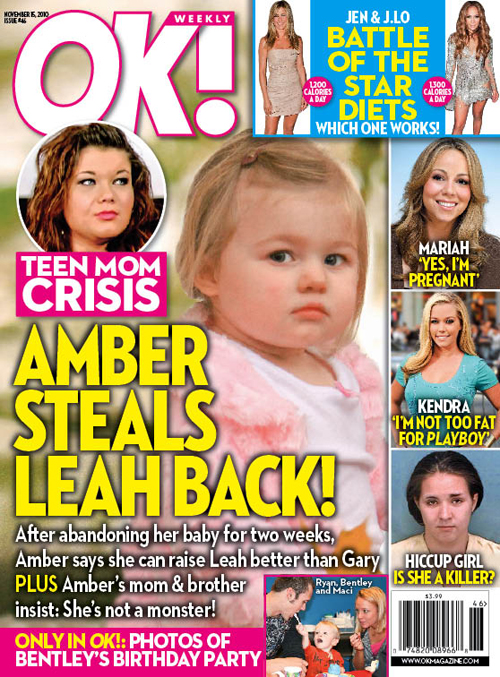 OK! Magazine
has a new cover featuring Teen Mom's Amber, who has been seen punching and choking her baby's father in footage on the show. Amber is the subject of a investigation by the Department of Child Services and has allowed her ex boyfriend, her daughter Leah's father Gary, to care for their daughter for twoweeks without her. She's since taken Amber back, according to OK!. The article has quotes from Amber's brother, and he seems to suggest that Gary is just as bad as Amber and somehow provoked her into attacking him. They also seem to claim that Gary abused Amber off camera. Now I've seen most of the second season of this show and Gary can be a passive aggressive SOB, but I doubt that he would be as openly aggressive as Amber is. That just doesn't seem like him, or at least it isn't the way he's portrayed. He does stuff like not show up when he's promised to babysit so she can go out on her birthday. He's a jerk but he doesn't get up in anyone's face and turn on a dime like Amber. Amber has a new boyfriend, an ex con who looks and acts like a druggie. She seems really spaced out when she's with him and those two are definitely on something. It would explain a lot of her recent weight loss too, but her brother insists she's not on anything. Here's part of OK!'s story, which has Amber's brother making her out to be this misunderstood person who is the product of a bad childhood:
For the past two weeks, every time teen mom Amber Portwoods baby, Leah, saw a young woman with brown hair, she called her "Mommy." "Leah would look around and say 'Amber, Amber, Mommy, Mommy'," Andrew Swan, the best friend of the baby's father, Gary Shirley, tells OK! exclusively. "It was breaking my heart."

Then finally, on Oct. 31, Amber - who hadn't talked to or seen her 2 year-old since Oct. 19 - swooped in to reclaim her child, spending Halloween with the tot and informing her ex Gary that she was ready to do what it takes to get her life together and find a safe new home for Leah. In fact, Amber believes she can do a better job than her ex when it comes to raising Leah, a source tells OK!

But the tearful reunion between Amber and her daughter took place as MTV's cameras rolled, filming Teen Mom's third season, which begs the question: Has Amber really changed, or are her new promises of maternal devotion all for show?…

Unfortunately, Gary, who grew up in a similarly dysfunctional family, seems to being out the worst in Amber. "He's not the person he wants you to believe he is," says Shawn [Amber's brother] of Gary, who he thinks is portrayed sympathetically on MTV. "He runs his mouth off and asks stupid questions to incite a fight. He wants to look like the victim, but he's manipulative. He knows Amber has a temper, but he also has a temper too."

In fact, Anderson [Indiana] police records show that Amber's called for help several times when Gary's temper reportedly was out of hand. And like Amber, Gary has come under investigation for domestic abuse. (See sidebar) [Ed note: follows below]

Their trouble with the law

OK! obtained records showing that Amber isn't the only one who's been in hot water with the police.

Nov 7, 2009

Gary showed up at Amber's apartment at 12:30 am and allegedly became verbally abusive when he discovered she had company. He later told police he was concerned that Amber was taking narcotics and being promiscuous in front of Leah.

July 8, 2010

Amber accused Gary of grabbing her by the arm and pushing her during a fight over the baby.

Sept. 29, 2010

Amber's abuse of Gary on Teen Mom prompted viewers to contact local police and demand an investigation.

Oct 19, 2010

Amber summoned police after Gary allegedly threw her out of the house while wearing only her underwear.
[From OK! Magazine, print edition, November 15, 2010]
OK! goes on to have Amber's brother refute Gary's charges that Amber is taking drugs. He laughably claims "
She only tried drugs once, when she was 15, and I got on her about it. She listens to me. She's on meds, but I don't think she's taking more than she's supposed to.
" He also says that as children they were kept up at night due to their parents arguing and that "
Now Amber sleeps all day and is awake all night. It started because we weren't able to sleep when we were younger because of the fighting and now her trouble sleeping continues
." Are you kidding me?
Now let's imagine that the tables were turned and that it was Gary who beat Amber twice on camera. Would anyone dare to suggest that she made him do it or that she does it too and just never gets filmed in the act? Domestic abuse is always uncalled for and it's despicable no matter a couple's dynamic. I get that OK! is doing well with these
Teen Mom
covers, hell I've even gotten into the show following all the coverage of their drama. They don't need to make Amber out to be a decent person just to get an exclusive with her though. She's not, and Leah needs to be with a sober, nonabusive parent. If Amber is going to see her daughter she should probably have court-appointed supervision.
Photos via
PoponThePop
,
Starcasm
and OK!