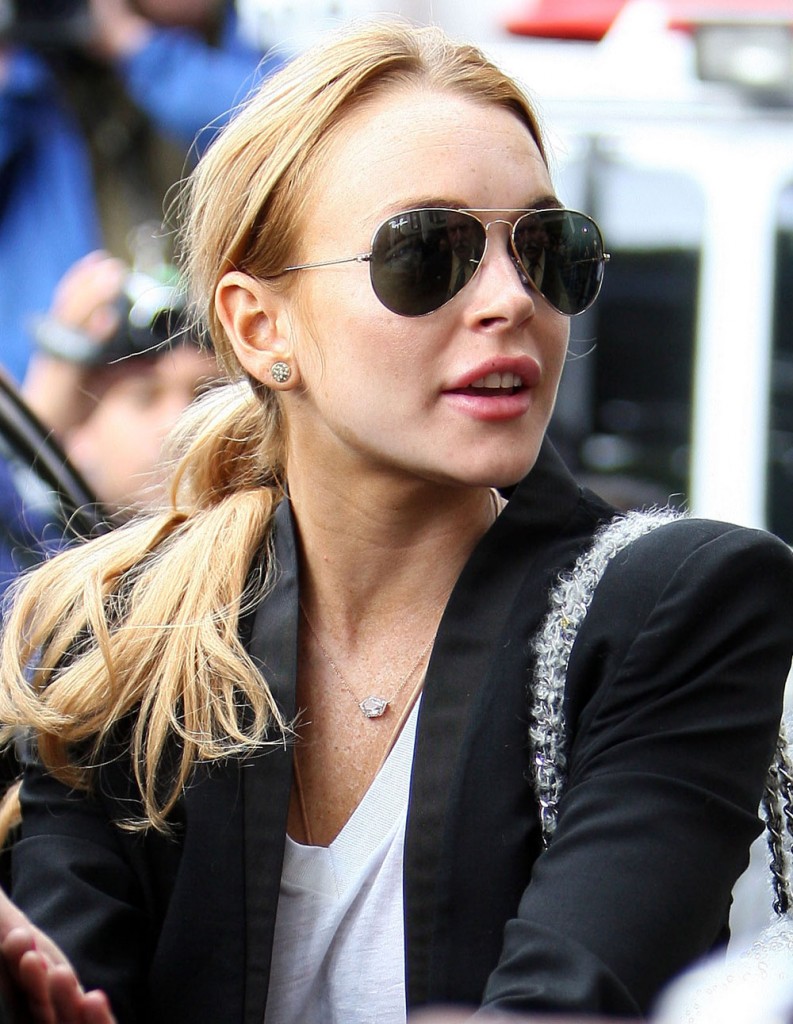 Lindsay Lohan left rehab for the second time in under a week and was spotted
at a bookstore and movie theater
with two other women. The last time Lindsay was let out
she went shopping
a dropped a couple of hundred bucks at a Forever 21 store. She was also said to be seen regularly at a local Starbucks despite the fact that caffeine is banned at her facility, the Betty Ford Center. This if course begs the question of whether Lindsay is being given special privileges in rehab, where she's been ordered to stay until January in lieu of jail. Lindsay is likely aware that it looks bad that she's skirting around regulations. TMZ reports that
she left the theater early
once she was noticed. So how many other times has she ventured out of rehab and not been spotted?
Meanwhile, Lindsay's dad is said to have reunited with her at rehab for the first time in months. The last time we heard from Michael Lohan he was holding a press conference
to announce that he would no longer be talking to the press
. He did of course, though, and granted an exclusive to Radar Online in which he gave details off the record of his reunion with Lindsay. Lindsay and Michael hugged and cried and talked for a few hours, after which they went shopping at a local mall. This was on Saturday, the same day that Lindsay was spotted out at the mall and the movies. So she could have started out shopping with her dad that day and capped it off with more shopping and a trip to the movies.
Lindsay Lohan has reunited with her estranged father Michael at the Californian rehabilitation clinic where she is receiving treatment for drug addiction, RadarOnline.com has exclusively learned.

"It was an emotional reunion… there were hugs, kisses and even a few tears when Michael and Lindsay first saw each other," a source with knowledge of the meeting revealed to RadarOnline.com.

It is a stunning and dramatic turnaround for the 24-year-old Hollywood wild child, who has perpetually blamed her one-time drug addict dad for her problems.

The pair met soon after 1pm on Sunday at the Betty Ford Center in Rancho Mirage, California, we're told.

"Lindsay met Michael at Betty Ford and the pair spent hours together… it was not a fleeting encounter, this appeared well-planned in advance," the source said.

"They also went shopping at a local Palm Desert mall, where they were seen walking around together and at one point, were in a jewelry store."

When RadarOnline.com contacted the Lohan patriarch for comment about the encounter, the 50-year-old dad-of-four remained tight-lipped: "I have pledged not to comment about anything relating to my daughter.

"However, what I will say is that I am an incredibly proud father tonight. My daughter is progressing extraordinarily well."

A source close to the actress told RadarOnline.com that her father's visit was at her invitation, while her mom, Dina, was back in New York preparing to appear on NBC's Today Show.

"Michael turned up at Betty Ford with some gifts and items for Lindsay," said the source.
[From
Radar Online
]
Michael also told Radar that he is willing to go to therapy with Lindsay, after which I'm sure he'll leak details to whichever outlet will pay the most for his daughter's personal information.
Lindsay's mom Dina is going to be on The Today Show this morning. I can't wait to see how botoxed and in denial she comes across this time.