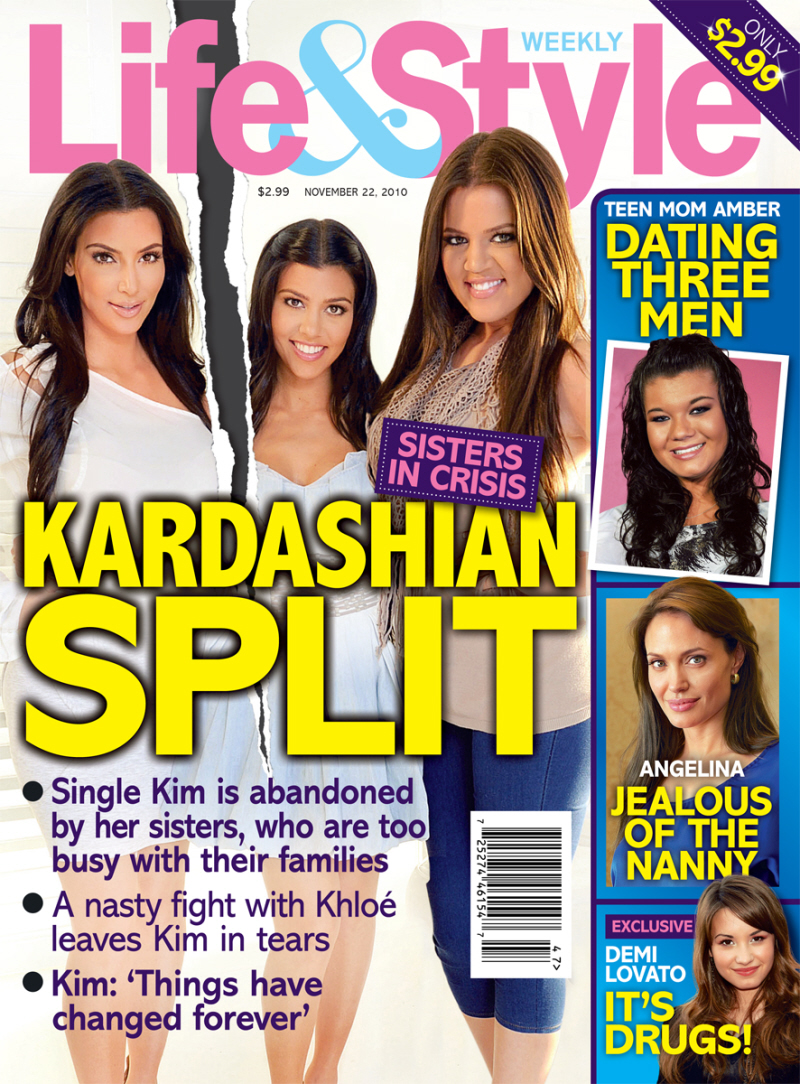 Life & Style
is yet another Kardashian cover, just like this week's People Magazine and OK! Magazine. Ugh. At least this one is slightly interesting - it's all about Kourtney and Khloe ganging up on Kim. The sisters are breaking up! Apparently, Khloe even referred to Kim as a "selfish bitch" (pot, kettle) although the situation is kind of unclear. Basically, sources are saying the sisters are "splitting up" because they're not stuck up each other's asses anymore. Doesn't that just happen sometimes?
After weeks away from each other, the Kardashian sisters reunited on Nov. 1 in NYC to get ready for the opening of their third Dash clothing store—but the reunion was far from a happy family gathering.

"When Khloé arrived in NYC, Kim wanted nothing more than for the three sisters to hit the town together and have fun," an insider tells Life & Style. "But Khloé said Kim was being a selfish bitch. Kim burst into tears and rushed out of the room."

And Life & Style has learned that even more ugly confrontations ensued, leading up to the opening of Dash on Nov. 3.

"After that first fight, Kim called a friend to come comfort her," says the insider. "Kim definitely feels abandoned. It's clear that Kourtney and Khloé are bonding over being settled down, and Kim just doesn't fit in."

"Another huge fight broke out on Nov. 2 as they raced to get the new store open on time," says the insider. "Once again, Kourtney and Khloé froze out Kim and made decisions about where clothing would go in the store. Kim tried to speak up, and it was like she wasn't even there."

The three had planned a sisters' night out at NYC hotspot Bagatelle for later that day to reward their hard work, but a devastated Kim went alone instead.

"They had a table set for the three of them," noted an eyewitness at the restaurant, "and at the last minute they removed a place setting to make it just for Kim and a friend."

The insider adds, "They've grown apart much more than Kim had realized. It's made her very sad."
[From
Life & Style
]
I have to admit, when I catch the show (five minutes here and there, I don't sit and watch full episodes), Kim isn't horrible. Yes, she is self-absorbed, as is Kourtney and Khloe. But Kim isn't really that annoying on the show - she often comes across as just kind of spacey, dumb, and like she's a romantic, girly-girl who adores her sisters. Khloe is the loud-mouth, funny one. And Kourtney is the delusional bitch, in my opinion. I wish this story was about Kim and Khloe ganging up on Kourtney - that would be better.