Life is really tough for a pretend single mother.

Just days after Kendra Wilkinson cried about living apart from her husband for a few weeks, while he earns hundreds of thousands of dollars playing professional football, the centerfold has returned to the magazine that made her famous.

Indeed, Kendra graces the cover of Playboy's Christmas issue, putting to rest the rumor she started about not posing for that publication again.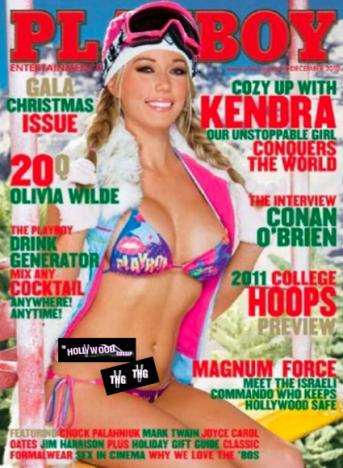 Wilkinson says that going forward with the pictorial was 'the hardest decision I've ever had to make in my life,' making it clear once and for all: she's had a pretty awesome life.
She adds: 'I'm 25, I have a son. If I don't do Playboy now I probably won't ever do Playboy again... I want to say 'F' you to the world and say 'moms can be sexy'.'
Note to Kendra: Gisele Bundchen is a mother. So is Heidi Klum. Christina Aguilera has a kid, too. We know moms can be sexy, thanks.