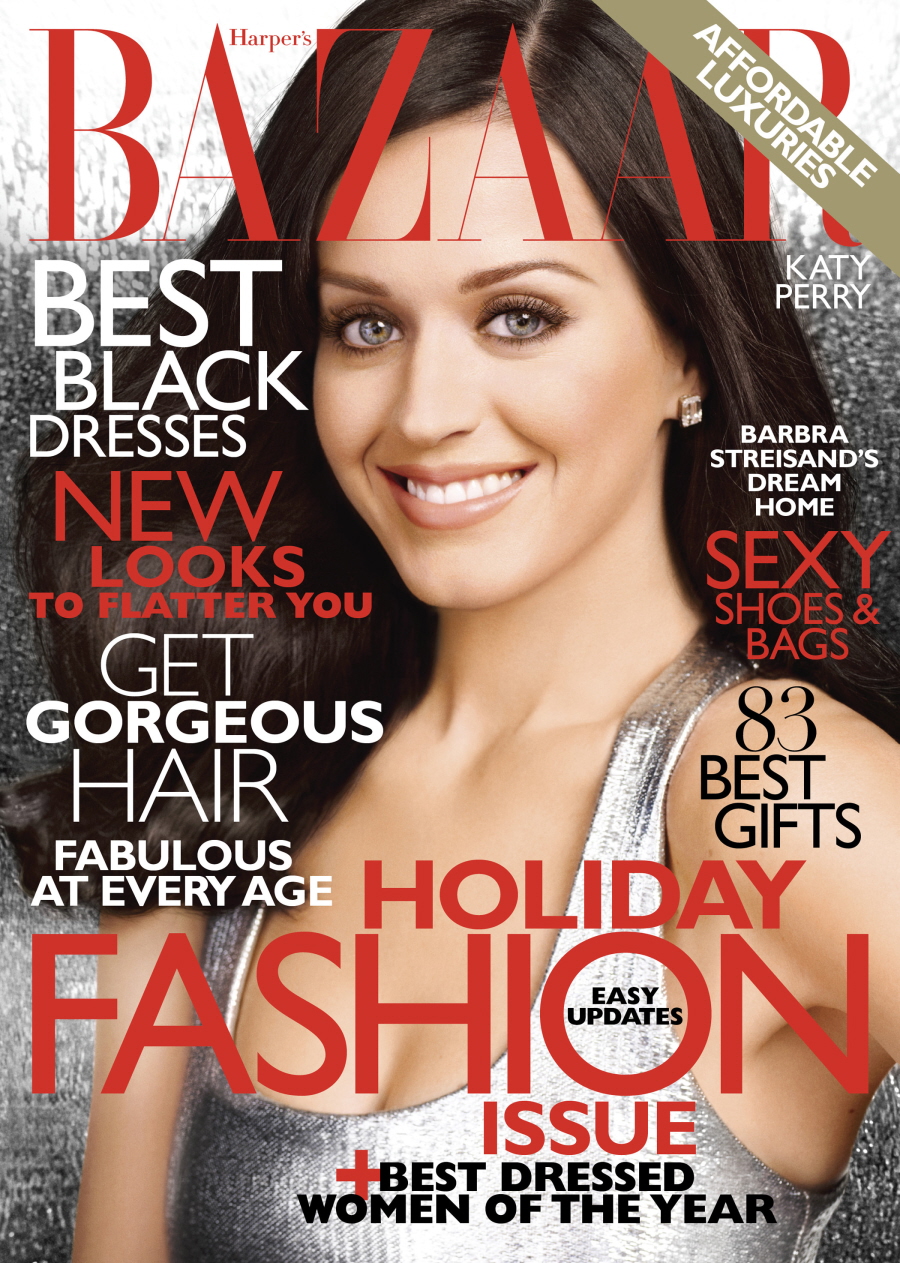 Katy Perry is the December girl for
Harper's Bazaar
. Now… I don't really like Katy. I think she's supremely untalented, and I can't stand her current styling incarnation. How she rates a Harper's Bazaar cover, I have no idea, especially the December issue - one of the biggest of the year. To make matters worse, I'm not even sure I would have known this cover was Katy unless the email from
Bazaar
hadn't lead off with it. They did some crazy 'Shopping to her face. Ugh. The interview isn't much better -
the full piece is here
, and here are some highlights:
On copying Dita von Teese: "I have multipersonality disorder—in a very good way, of course—when it comes to my fashion choices," she says of her ability to slip from party girl to polish. "When I first started playing around with my look, it was more of a Dita Von Teese pinup thing." But the burlesque look is too high maintenance. "Dita's really dedicated," she says.

On her husband, Russell Brand and his spiritual quest: "I always knew I wanted a great man of God, someone who was going to be an inspiration for people and also be a lovely husband and father," she says. "We're at different places in our lives, but we can still grow together. He's thought-provoking, articulate, a real advocate. I also definitely wanted to have a laugh. I have all that in him."

On her competition: She is part of a new wave of pop stars—among them, Lady Gaga, Rihanna, and Fergie— but her fellow quick-change artists are more sisters than competitors: "We're all unique. That's why we all win and we all can exist. People don't want just vanilla. They want 31 flavors. I couldn't do what Rihanna does. I couldn't do what Gaga does. They can't do what I do."

On her image: "I'm kind of a good girl—and I'm not," she says. "I'm a good girl because I really believe in love, integrity, and respect. I'm a bad girl because I like to tease. I know that I have sex appeal in my deck of cards. But I like to get people think­ing. That's what the stories in my music do."

On body image and fashion: Her particular flavor tends toward the saucy. "I'll tell you about my boobs and fashion," she says. "It can be hard to wear those looks"—like the ones shown here—"because they're best on people who have no curves or thighs. I don't have a Kate Moss body, but I'm very proud and happy with mine." Yet, at 13, she pined for a breast reduction. "I had really bad back problems and was a little bit thicker. Then I grew up and lost the baby fat and said, 'Hey, this isn't all that bad.'"

On the Sesame Street controversy: "If there had been a problem on the set, they would have said it to me at the outset. We had many different options." She came back with a sketch on Saturday Night Live in which she squeezed into a red Elmo T-shirt, the neckline slashed to showcase what all the fuss was about. "How do you respond otherwise?"
[From
Harper's Bazaar
]
I guess the most notable part is where she refers to Brand as a
"great man of God, someone who was going to be an inspiration for people and also be a lovely husband and father."
I mean… God. I hope she doesn't really feel that way, because I have a horrible premonition that (gasp) her marriage isn't going to last because she'll walk into their home one day and find Russell in bed with a blonde, a brunette and a mountain goat.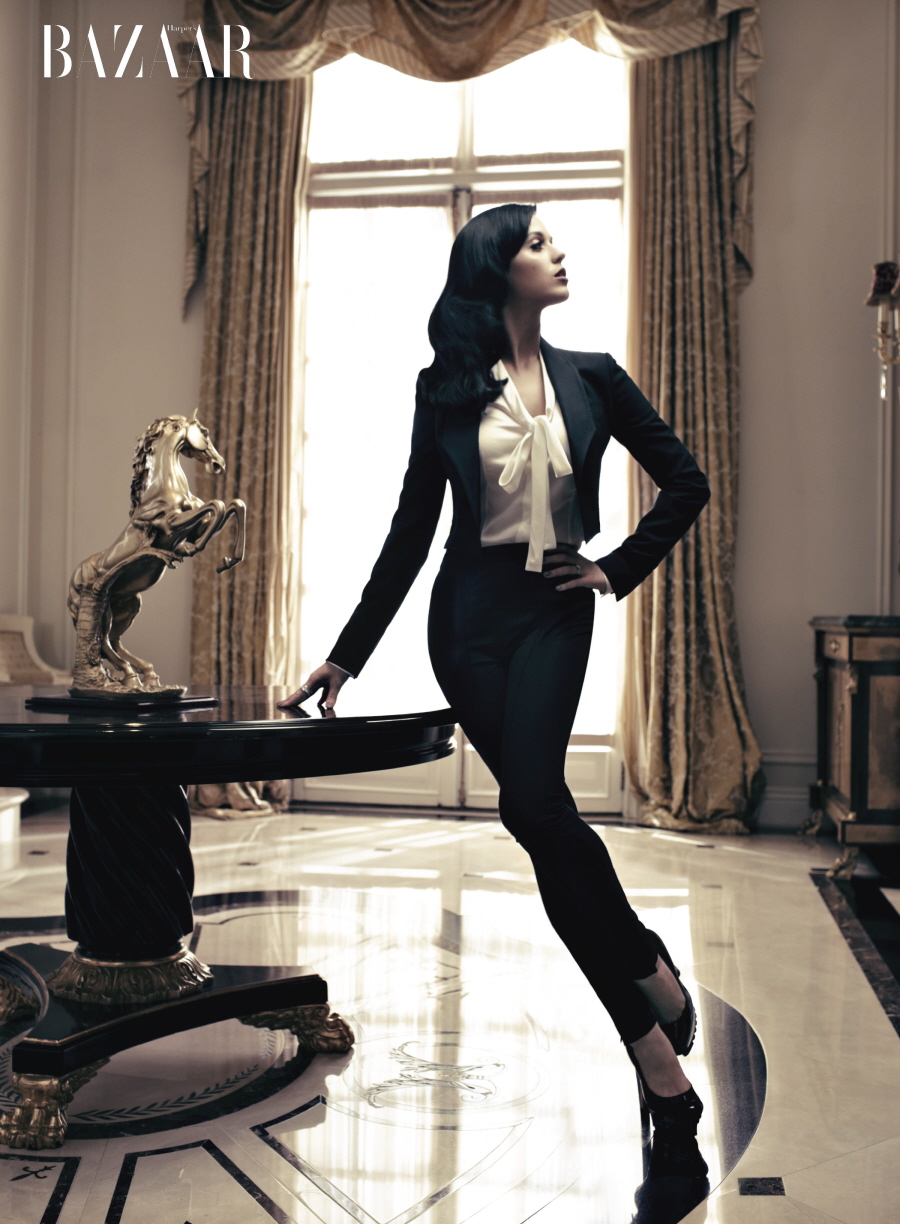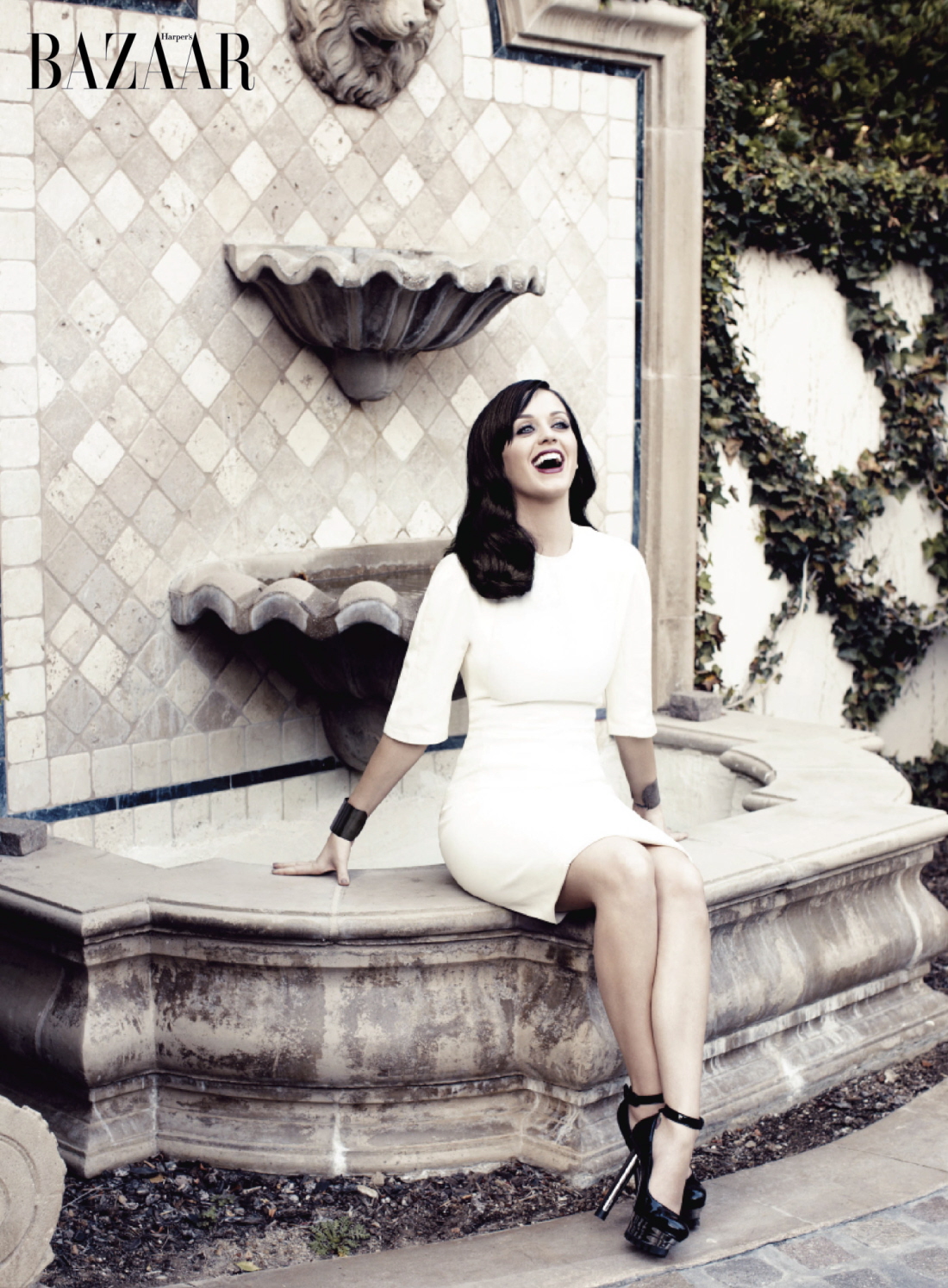 Photos courtesy of
Harper's Bazaar
.