Last week, one of the biggest stories ended up being about Kanye West, George W. Bush, and a little incident that occurred more than five years ago. It seems that when Kanye West declared
"George Bush doesn't care about black people"
during the Hurricane Katrina telethon back in 2005,
it was Bush's "all-time low"
. Yes, Bush thought Kanye calling him a "racist" was the worst moment of his presidency. Hours after that revelation, Kanye responded in an atypically gracious way, telling a radio deejay that he is now sorry he said what he said, and that now he knows it was
a "lack of compassion" that lead to him tearing Bush down
. And now, the follow-up. Bush sat down for yet another exclusive with Matt Lauer this morning on the
Today Show
, and Bush explained how he and Kanye are now buds and that he (Bush) is
"not a hater."
George Bush says he and Kanye West have patched things up. After Bush, 64, bashed West, 33, in his new book for once calling him a racist, he said on the Today Show Wednesday that he has "absolutely" forgiven the rapper.

West "stopped by to see me yesterday," Bush said. "He seems to have changed his tone rather dramatically."

West famously declared on the 2005 televised Concert for Hurricane Relief, "George Bush doesn't care about black people," blaming him for the reason that America helps "the less well-off as slow as possible."

When Today's Matt Lauer showed Bush a tape of West's rant, Bush said, "I appreciate that. It wasn't just Kanye West who was talking like that during Katrina. I cited him as an example. I cited others as well. I appreciate that."

But he stressed that they have both moved on.

"I'm not a hater," the former president said. "I didn't hate Kanye West. I was talking about an environment in which people were saying things that hurt. Nobody wants to be called racist if, in your heart, you believe in equality of race."
[From
Us Weekly
]
So now it's over. And Bush and Kanye can be buds now. You know what's remarkable? I actually think Kanye apologized to Bush, and that he meant it, and I think Bush probably also truly "forgave" Kanye. They probably are buddies now.
Funny story though - Kanye now is a Matt Lauer hater. Kanye ranted about Lauer for a half an hour this morning - go to
Kanye's Twitter
for the whole thing, here's a portion: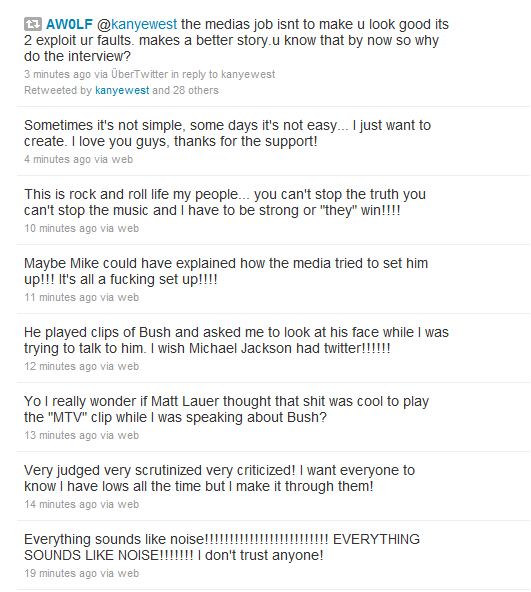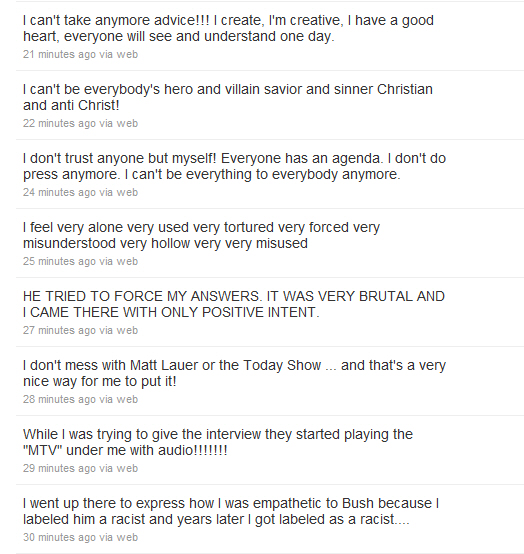 Ugh. I can't even with Kanye this morning. This is just an FYI: Matt Lauer is officially a HATER.
One last thing -
did everybody see this
? Bush really wanted to endorse Obama, but he only endorsed McCain because he "had to".