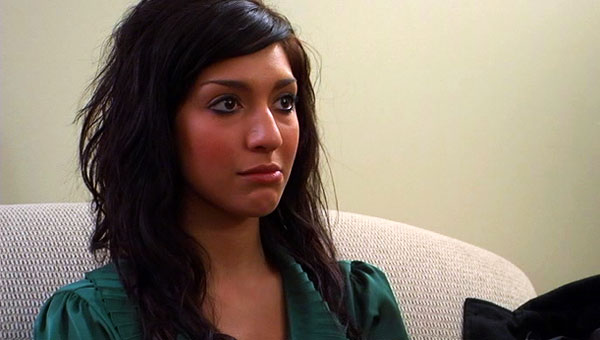 Yesterday we heard a former caregiver to Farrah on Teen Mom's 22 month-old daughter, Sophia,
allege that the girl was being neglected
and was worryingly behind on major milestones, like walking and talking. I've watched season two of Teen Mom and remember a couple instances when Farrah clearly made some dumb, potentially damaging mistakes with her baby. Many of you pointed out even more stupid moves that Farah made that put Sophia in danger, namely leaving her unattended in the sink (where Sophia turned on the hot water and burned herself) and leaving the baby in the hallway of her apartment building in her car seat. Radar Online spoke to Farrah about the allegations from Sophia's babysitter, and she says that it's not true that Sophia can't walk or talk and that she's saying phrases and has been walking for nine months. Farrah also denies that Sophia is being neglected at all, and claims that the caregiver is motivated by money.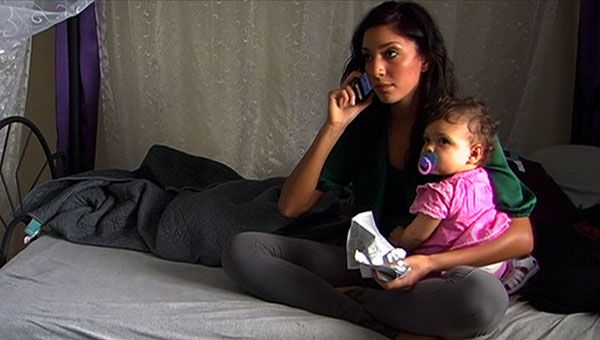 RadarOnline.com: Why do you feel your caretaker would tell stories like this?

Farrah: To use Sophia to make money from that magazine. It's really sad that somebody would use a child like this and do this to her when Sophia's just a baby.

RadarOnline.com: The childcare worker claims you left Sophia with her and on occasions, forgot her? Is that true?

Farrah: I don't know how I would EVER forget my daughter - I love her and she's all I think about.

RadarOnline.com: According to the childcare worker, Sophia's development seems worryingly slow and she couldn't walk. Can she?

Farrah: Sophia has been walking- she's been walking for 9 months. That includes when Brittney was taking care of her.

RadarOnline.com: When's the last time this childcare worker watched Sophia?

Farrah: Brittney has not babysat for Sophia for five months…

RadarOnline.com: How is Sophia? Does she play with other kids, or what were her most recent words?

Farrah: Sophia is doing awesome - she's healthy and really good - a cute little toddler now. She says lots of sentences, like "I love you" all the time. She loves watching Barney. She plays with the kids in the park on her "park day" all the time. The other day she was with us while we were walking my sister's dog and she was sharing the dog with all of the kids on the playground. Sophia is very nice child; she knows her manners and she's very friendly with other kids.

RadarOnline.com: How difficult is it to be away from your child as a working mom?

Farrah: It's VERY difficult. The first time I had to drop Sophia off at my grandparents' house, I cried. It tears you apart. I'm always very concerned and looking out for her, also, I just want to say that she always has clean clothes, food and has everything she needs.

RadarOnline.com: Does your mom help now that you are working more?

Farrah: My mom is more involved in Sophia's life now that I don't have to work with DHS for childcare. My mom and my grandma help with Sophia a tremendous amount, they're so supportive.

RadarOnline.com: Do you use a babysitter/daycare right now?

Farrah: The only time I use a babysitter right now is when my mom or grandmother can't watch Sophia, when I'm at school or working I have to use a babysitter for a few hours sometimes. I have responsibilities and I'm a single parent.
[From
Radar Online
]
Farrah is kind of clueless and can be very abrasive and snotty. She's dealing with a lot and I get the sense that she's doing the best she can. She's not the worst mom and she's far from the best, but she's not mean or deliberately neglectful. I'm glad that Sophia is ok though and that she's a happy and healthy little girl.
In related news, Farrah
recently won a custody battle
with the mother of Sophia's father, who died in a car accident before his daughter was born. Sophia's paternal grandmother was seeking grandparent visitation rights, which she was denied due to not having any relationship with the girl. Perhaps in retaliation,
the woman told Life & Style
that Farrah is
"a heartless spoiled brat and doesn't deserve Sophia
." No wonder Farrah doesn't want Sophia to have a relationship with that woman.