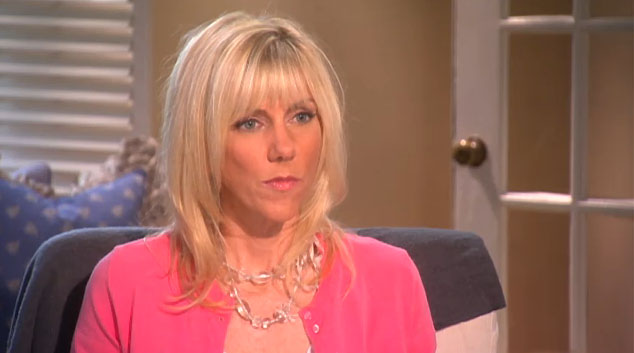 The National Enquirer
has a report that I think will amuse many of us. According to their sources,
Rielle Hunter
is "cheating" on her lover, former senator John Edwards. They don't really say who Rielle is boning, only that she's traveled to
Hollywood
to
"try to look up some famous former boyfriends."
Like Matt LeBlanc?!? And JOHN CUSACK? Bitch, hands off the Cusack. LaBlanc you can have though, if you want him.
In a shocking new twist to the biggest political scandal in recent history, RIELLE HUNTER is being unfaithful to JOHN EDWARDS, the father of their love child.

The ENQUIRER has learned that the disgraced presidential candidate and his 46-year-old mistress had a major blowout after she traveled to Hollywood recently and tried to look up some famous former boyfriends.

The ex-videographer tried to reach out to Friends hunk Matt LeBlanc and Gross Pointe Blank star John Cusack, an insider told The ENQUIRER.

"Rielle decided to contact her old flames."

The star-chaser boasted to a pal that "if she can't marry John Edwards, then marrying a famous actor is high up in those dreams of hers!"

Although Rielle struck out, it wasn't from lack of trying, sources say. She's even telling friends that she wants to rekindle an old romance with Matt LeBlanc. But some sources think that by pursuing anything with these actors, Rielle is cheating on Edwards.

As for John Cusack, Rielle couldn't find him either when she went to LA. But she continues to brag that she and Cusack dated years ago, after being introduced by a friend.
[From
The National Enquirer
]
How does this play into people's sense of instant karma? Yes, it makes me incredibly happy to think that John Edwards' lover/mistress/girlfriend is screwing around on him. By where is Rielle's instant karma? Will she pay in the end? Or do delusional hoes never "get theirs" in the end?
Also: The Enquirer claims Rielle also dated Jeff Goldblum and Kiefer Sutherland. Bitch got around. And not all of it was bad. What is it with men and delusional hoes?