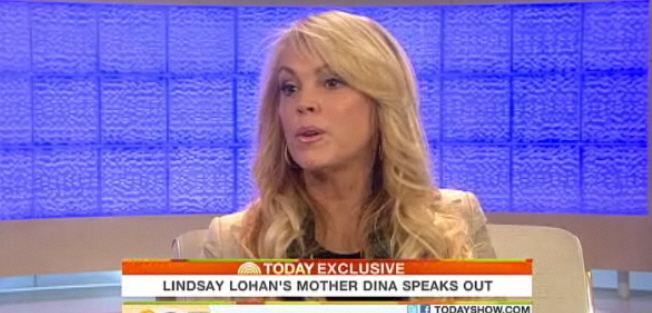 Dina Lohan sat down with her nemesis (one of many), Matt Lauer. Dina was on the
Today Show
this morning, all to talk about her crackhead daughter and the alleged recovery. Before Lauer even began the interrogation of Dina, they put out a rather (justly) harsh recap of the events thus far, with some of Dina's crack lies, and many of Lindsay Lohan's crack lies, including the little fact that Lindsay was pleading poverty, yet she can afford to go on shopping excursions on rehab breaks. Here's the video:
Some of the highlights, courtesy of
USA Today
and my own transcription:
Dina says she spent "two weeks" at the Betty Ford Clinic, talking with other families who have experienced a family member with addiction issues. Dina also says that the Clinic was helping families deal with "the codependency". Smart. Next up should be "the enabling."
Dina on Lindsay's "state of mind": "Happy. Relaxed… She's just a different person. The Betty Ford Center is just an amazing place," she added, calling it "life-changing" for Lindsay. "She's been in a couple of facilities, but this one, to me, has really changed her. They get into your psyche and bring the problem to the surface."
Dina also says that it's a big deal for Lindsay to have Twittered that she has a problem, and Dina says something about how she hopes "it will help other families." Mother Crackhead is a role model, y'all.
Dina on whether Lindsay recognizes she's an addict: "YES. And this teaches you that you are. And she's young, and I thank God that he didn't incarcerate her, because that wouldn't have helped her. And being so young and admitting that, it can only help her sobriety in the future."
Dina on whether she could admit her daughter is an addict: "Yes. When I first came her initially, you know, that was for Lindsay to admit… I put her in rehab when she was 19… It wasn't for me, as a mother, to come to the world and - I mean, how many viewers do you have? - about her problem, that was for her do. I wasn't in denial by far, but I think it was for her to come to her own evolution."
Dina on whether this rehab stay will stick: "We'll take it one day at a time. I don't have a crystal ball. I pray hard and she wants to start her own facilities, help other children. She's so public, we can only be positive and look to the future to help other families." Something tells me that if Dina did have a crystal ball, she would smoke that rock like it was going out of style.
Lohan is due to stay in rehab - she's out of the center and "in a home," said her mom - until Jan. 3. Lauer pointed out that last time Lindsay got out early. Might that happen again?
"Lindsay wants to stay," said Dina. "She's learning the trigger points and why she turns to something - drugs or addiciton."
***
Does anyone else just roll their eyes at this? Dina is such a f-cked up person, and she contradicts herself constantly. If Dina really felt like Lindsay had all these problems (and Dina was just protecting her addict daughter), then why allow Ali to basically live with her crackhead older sister? Why all the delusional denials? Why all the crack lies? It wasn't to protect Lindsay's image, or to make Lindsay come to some kind of crack epiphany - it was so Dina was protecting her own ass, just like she's doing now.