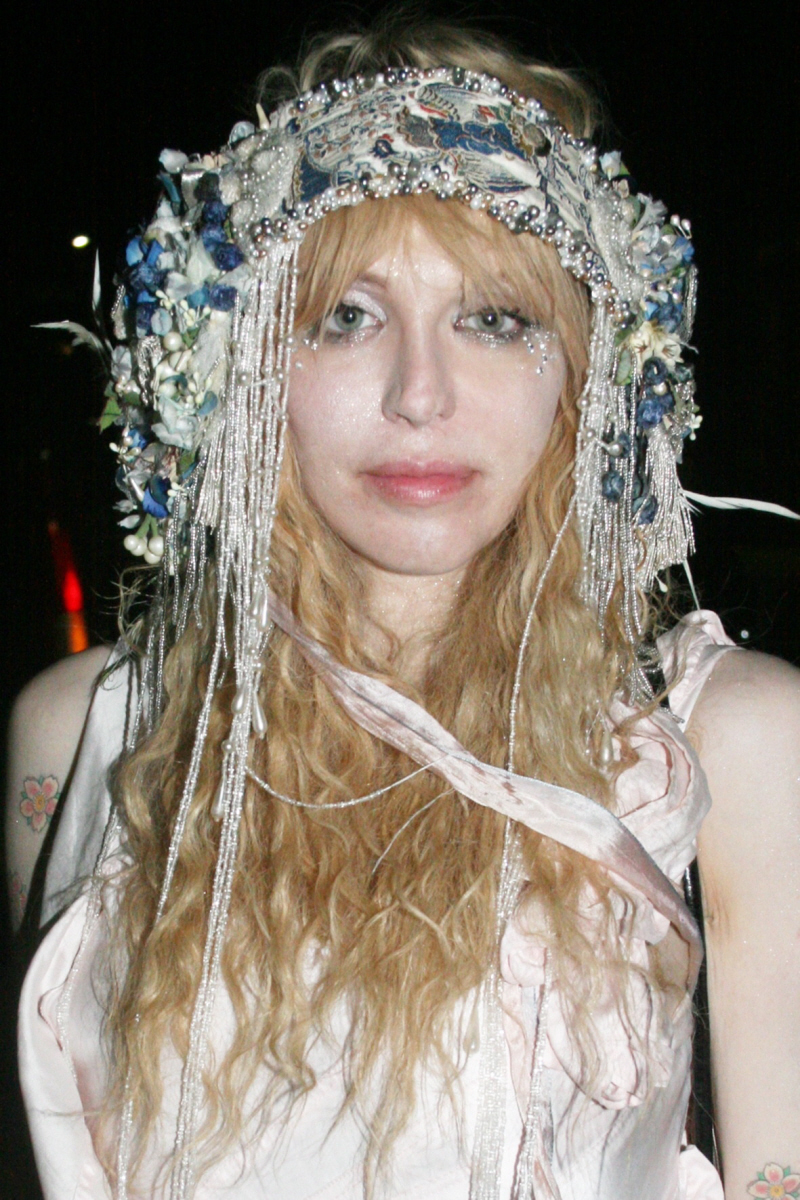 British sources are claiming again this morning that
Courtney Love is dating Uma Thurman's ex, Andre Balazs
. I still don't believe it. Mainly because I'm almost certain that Courtney is still a f-cking mess. But I'll give her credit: she's an amusing and shameless hot mess. In addition to the new reports about Love and Balazs, Courtney also gave a new interview to the
New York Times
this weekend. She talks in great detail about her life-long interest in fashion, and how she knows that most people perceive her as a barely cognizant crackhead. Unfortunately, this is the introduction to the article (
full NYT piece here
):
On Wednesday night, at 7 p.m., Courtney Love was, by her assessment, "slightly drunk."

She was sitting in the lobby of the Mercer Hotel, giving an impromptu concert with a guitarist and an entourage of friends. She wore a strapless white Marchesa gown, which appeared to be slipping off, and she knocked over a martini when I walked over and greeted her. "I just need half an hour," she said, ignoring the mess. She directed me to wait in her room on the sixth floor, where she has resided, on and off, for much of the last year. She stayed behind, talking to André Balazs, the hotel's owner, with whom she has been romantically linked in the past.

While waiting in her room, I noticed the following things: There were two full-size rolling racks packed with designer clothes, a pile of jewelry from Hollister, a shopping bag from Lululemon, a pack of Marlboro Gold cigarettes, fashion magazines, a guitar, faxes from Grazia, three wilting bouquets of peonies and roses, a nondisclosure contract, chocolates from Vosges and a neatly stacked pile of books with titles like "Talking the Winner's Way," "100 Words Every Word Lover Should Know," "Getting Even," "How to Instantly Connect With Anyone" and "What to Say to Get Your Way."

Shortly after 8 p.m., Ms. Love burst into the room with the Marchesa dress slung on one arm and the noted German Neo-Expressionist artist Anselm Kiefer on the other. She was entirely naked and leaning on Mr. Kiefer for support. She made one lap around the room, walking in front of a photographer, an assistant, a hairstylist and me. She pulled over her head a transparent lace dress that covered up nothing, and demanded my assistance — "Not you," she said to Mr. Kiefer, who was bent over trying to help her — to stuff her feet into a pair of black Givenchy heels that were zipped up the back and tied with delicate laces in the front. Then she applied a slash of red lipstick in the vicinity of her mouth.

"I really must get out of here," Mr. Kiefer said.

"Just a minute," Ms. Love said, as she pushed her feet, shoes and all, through a pair of pink knickers that she said cost $4,000. She grabbed a trench coat, walked through the hotel lobby with her breasts exposed to an assortment of prominent fashion figures, including Stefano Pilati, the Yves Saint Laurent designer, and then exited the hotel.
[From
NYT
]
So you already know this sh-t is going to be good. And you know Courtney is going to spend the entire interview shooting herself in the foot. I'd also like to point out something that bothered me - this whole piece is about Courtney trying to get her act together so people will recognize her as a style icon and as some kind of fashionable, interesting celebrity. It's all about her
public
image. Courtney says nothing about the drama with her estranged daughter, or trying to be clean and sober for Frances Bean, or trying to reconnect with her. It's all about Courtney, all the time, forever:
On forgiving Russell Simmons for kind-of calling her a crackhead: "To be honest, I just don't care," she said. "I know I've done it so many times, where I've mouthed off and said something stupid and been portrayed as a nut bag. What right would I ever have to get angry by a little slip of the tongue?"

On how she'd like her public image to be: "I want to be trusted again, like I was at one point," she said. "I'm not trusted right now. People don't want to get in trouble. They think that I am probably going to talk about things I shouldn't talk about, which I do a little bit, but I am really trying to be trusted again."

On her nightstand: "These are my wakeup cupcakes, some anti-depressants and a cellphone book," she said without embarrassment.

On not wanting people to think she's a train wreck: "I speak to you as someone who doesn't want to be perceived as a train wreck," she said. "Living in L.A. had a really bad effect on me in particular," she said, describing what sounded like obsessive behavior regarding the legal cases regarding the rights to Mr. Cobain's estate and allegations of financial wrongdoing. "I didn't realize where my reputation had gone. In New York, you can attack the source of what's gone wrong. Like what Russell did today — I called him and said, 'You know, Russell, you are a little older than me and you should know by now, with all your crazy money and your good credit and your RushCards, to not mouth off.' "

Early interest in fashion: Ms. Love gained entry to the wardrobe department of Paramount. She became an expert on vintage Hollywood and later acquired, through dealers, an impressive trove of clothing from the estates of Clara Bow, Lillie Langtry, Lillian Gish and Norma Talmadge.

On her mother: She was rebelling against a mother, of whom she said, "I will never, ever forgive for not being glamorous." And in a way, she was also rebelling against the fashion designers who refused to lend her dresses

Her bad fashion phase: "For years, despite having impeccable taste, I didn't understand how to convey that I had impeccable taste," she said during our interview. "What is the word for the one pill that you took in your life that made you far more conservative and stop cursing so much? I don't know what that pill was, but somehow someone slipped that in my drink."

About the chanting: The day before our first meeting, Ms. Love, a Buddhist, had chanted for several hours, taking breaks for cigarettes and text messages. Meanwhile, she made a promise to herself that, if she were to get the lease to the town house, then she would give up worrying about money, be polite to everyone and stop taking antidepressants. When she got home, she said, she found out that she got the house. So she decided to chant again that night.

The last part of the article:

ON Thursday night, Courtney Love sent me a series of lengthy text messages, as she often does to anyone she meets, but these were unusually coherent. She apologized for what happened the night before and said she felt embarrassed for "living right up to my worst reputation." She blamed a combination of Zoloft and a cocktail. And she blamed herself.

"I'm so humiliated," she wrote. "That simply isn't me. It has been, but I haven't been such a mess for quite some time."

Just before 2 a.m., she ended with this:

"I trust you understand that our hearts can take us all to dark and ill timed places. Warmly, Courtney. xx."
[From
The New York Times
]
I thought the "wakeup cupcakes" and all of the stuff about chanting was the best. I love that she takes "chanting breaks" to smoke and text! Oh, Courtney. You crazy bitch. I was also thinking about Courtney in relation to that other hot mess train wreck, Lindsay Lohan. Is this what Lindsay is going to be like in two decades? Still in crackhead denial, still talking about clothes and herself, like that's the only thing that matters? Or is Courtney somehow better, because her crazy seems somehow more contained, like a lifelong eccentricity rather than a rampant narcissistic sociopathy? I don't have the answers.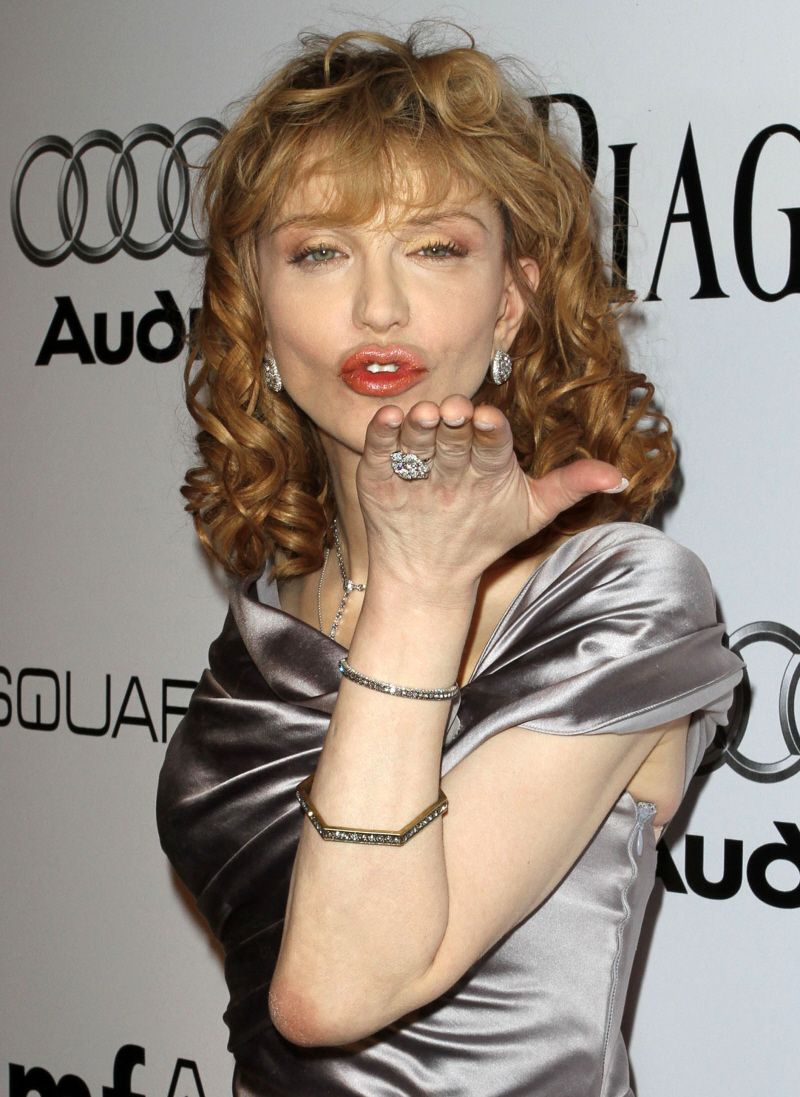 Photos courtesy of WENN.