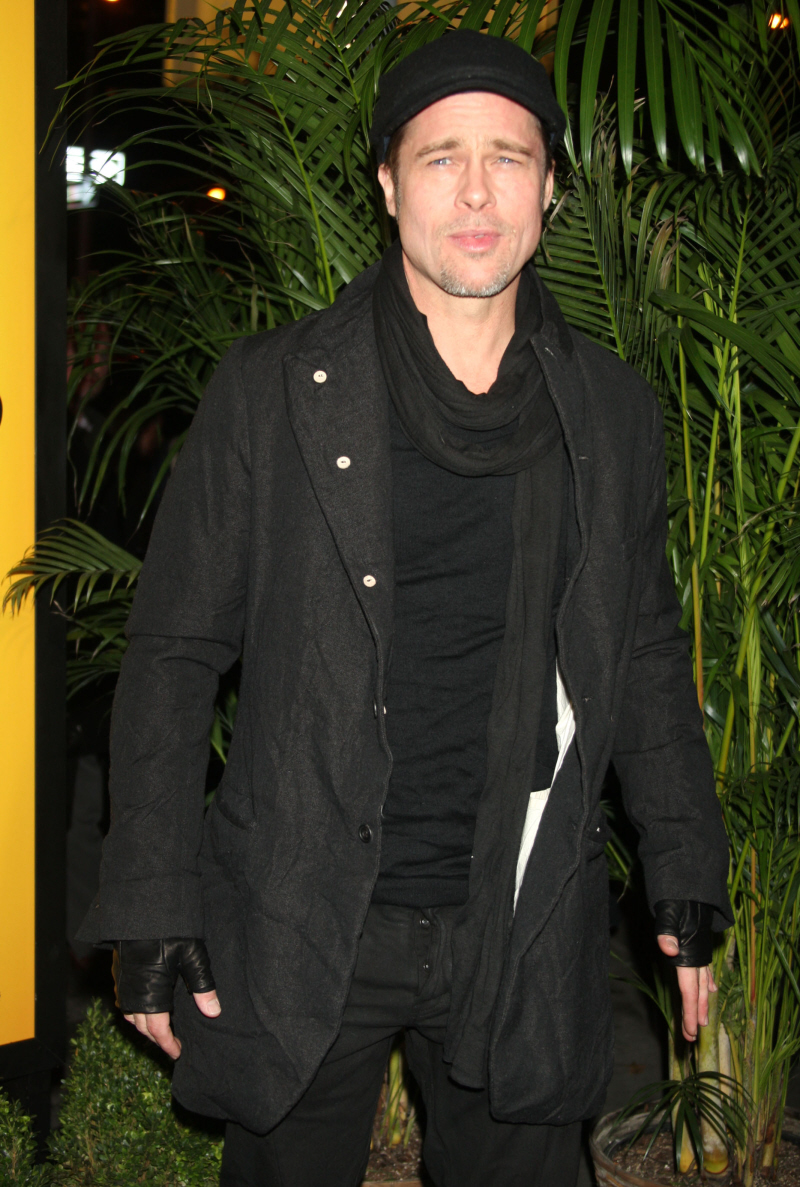 Last night was the NYC premiere of
Megamind
, the new animated film featuring voice work by Will Ferrell, Tina Fey and Brad Pitt. Thus far, Tina and Will have done most of the promotional work for the film, but Brad flew into NYC yesterday to attend the premiere. He didn't get dressed up or anything - Angelina must have picked out his premiere outfit, because I didn't know you could get so many shades of black packed into one outfit. My favorite part is the fingerless gloves! Those look badass. Surprisingly,
Brad didn't bring any of the kids to his premiere
, although Maddox and Pax did fly into New York with him.
NOTE:
I was wrong, Madd and Pax did go to the premiere, we just don't have any photos of them.
You can see the boys here, at PopSugar
. Brad spoke to
Us Weekly
on the red carpet:
After spending the last few weeks in Budapest, Brad Pitt returned to the U.S. with sons Maddox, 9, and Pax, nearly 7, Wednesday to attend the NYC premiere of his new movie, Megamind.

"At the end of the day, it's my kids," he told UsMagazine.com when asked why he signed on for the toon, out Friday. "I did it for my babies … I'm sneaking the boys in there now!"

In the movie, Pitt, 47, voices Metro Man, the superhero of the film. Asked if he has any real-life super powers, he told Us, "Yeah. I'm a father of six! I mean, I'm a dad and with that comes some super powers. I just thought it would be kinda cool to be in this movie."

Will his kids like it? "I hope so," Pitt told Us.

Pitt told Us "everything is great" with his family, most of whom are still in Budapest as Angelina Joie shoots her directorial debut, a Bosnian love story (Pitt told Us she is doing "great" so far).

"We just flew over this morning and then we're going back really soon," Pitt told Us.

He told Extra his unconventional family will celebrate an unconventional Thanksgiving this year.

"I'm not really sure where we'll be for it, but yeah, it'll be overseas," he tells Extra. "We'll whip up a turkey somewhere."

He said his family is used to traveling around.

"We are like a military mobile unit," he joked. They recently celebrated Halloween. Said Pitt, "I was sort of a bunny."
[From
Us Weekly
]
Not shocking, any of it. They'll spent Thanksgiving overseas, everyone is doing well, and Brad is concentrating on fatherhood. But I do love that he was
"sort of a bunny"
for Halloween. There's no shame in that, Brad! He just wears whatever Empress Zahara picks out for him.
And here is my favorite photo from the premiere - Brad and Tina Fey posing uncomfortably in the same shot, with Ben Stiller photo-bombing them: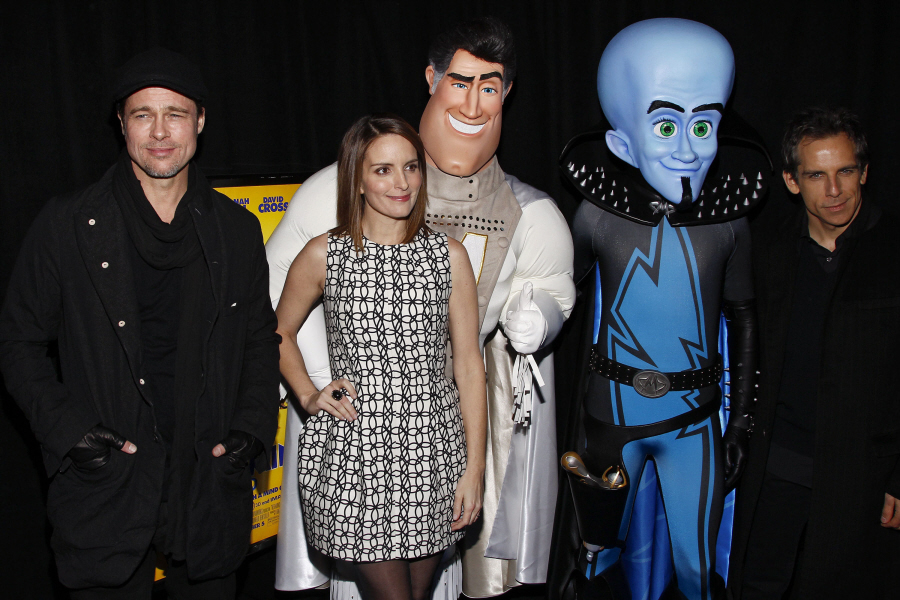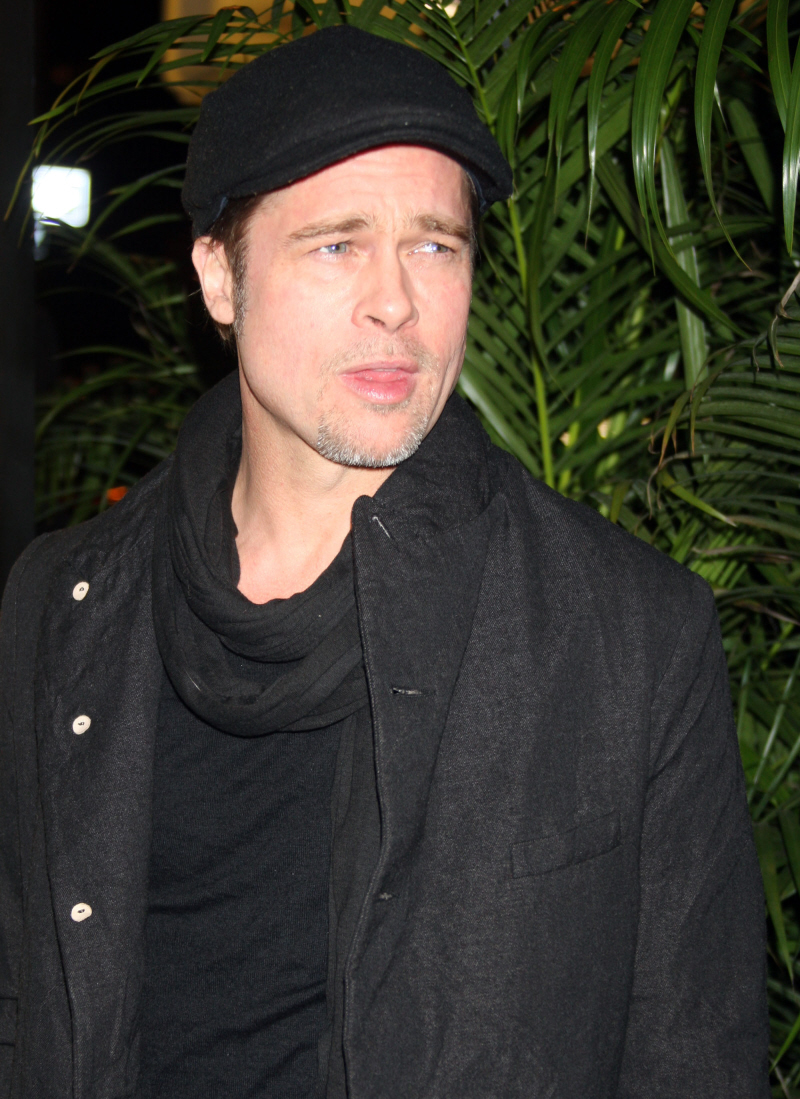 Photos courtesy of WENN.