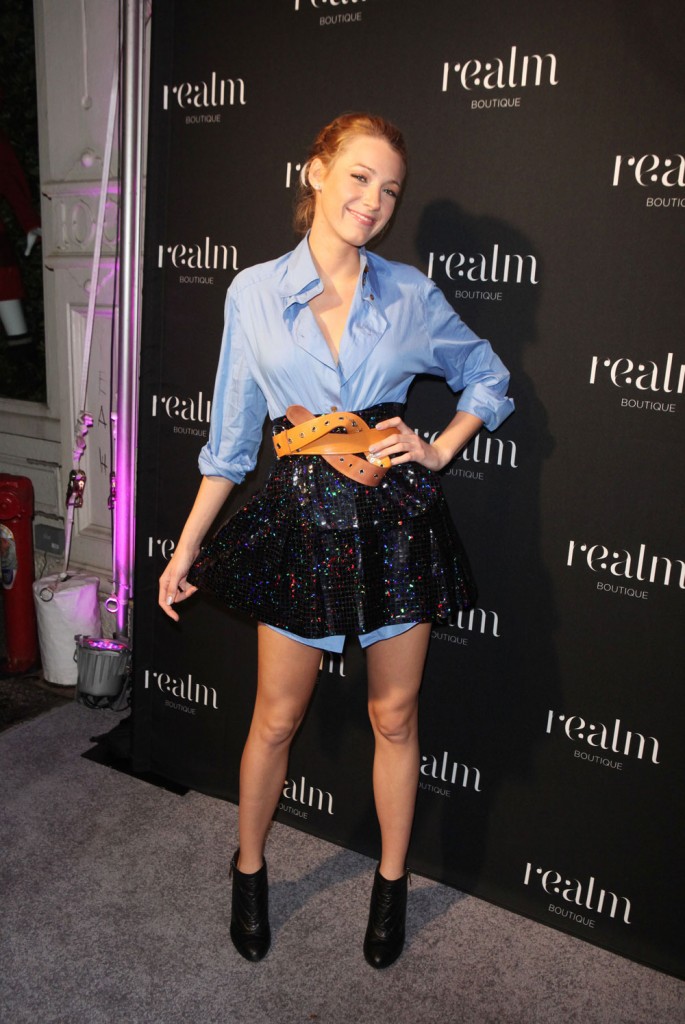 Blake Lively
wore a strange ensemble, even for her, to the opening of a new boutique in Soho last night. She had on a blue dress shirt with a wide collar open to her bra paired with a puffy sequin miniskirt that was possibly tiered and a tan leather belt folded in on itself. I really hate the trend of wearing sloppy leather belts with dresses, but that transgression is minor in the context of this outfit. The bottom of her shirt was hanging out from beneath the skirt. It's like she's daring us to tell her that it's anything except high fashion. Blake admitted as much in a recent statement in which she bragged that she styles herself and is self taught from attending fashion shows. I think we can call her latest effort "throw it all together and see what sticks":
Stepping out for a swanky evening, Blake Lively was spotted at the opening of the new Realm Boutique in New York City last night (November 4).

The "Gossip Girl" actress was joined by owner Randi Jacobson as she posed for the paparazzi outside the SoHo establishment.

As for her own personal sense of style, Lively told press she's developed her taste over the years and had plenty of exposure to awesome fashion.

"I feel like the more you do anything the better you get at it. I've lived in New York for three years, and I go to more and more shows. My trip to Paris, the designers I get to meet, and I just styled myself the whole time."
[From
GossipCenter
]
I'll say something nice - those boots are cute and I have a pair just like that. The outfit is a mess, though. At least her boobs aren't hanging out, she's wearing a skirt (although it's shorter than her damn shirt) and you can't see the inside of her upper thighs. Although that's probably not the case when she sits down.
Note by Celebitchy
: I wrote this as Kaiser is having Internet issues. I know she usually covers the fashion stories and she did write the title. Thank goodness she did HGF ahead of time!