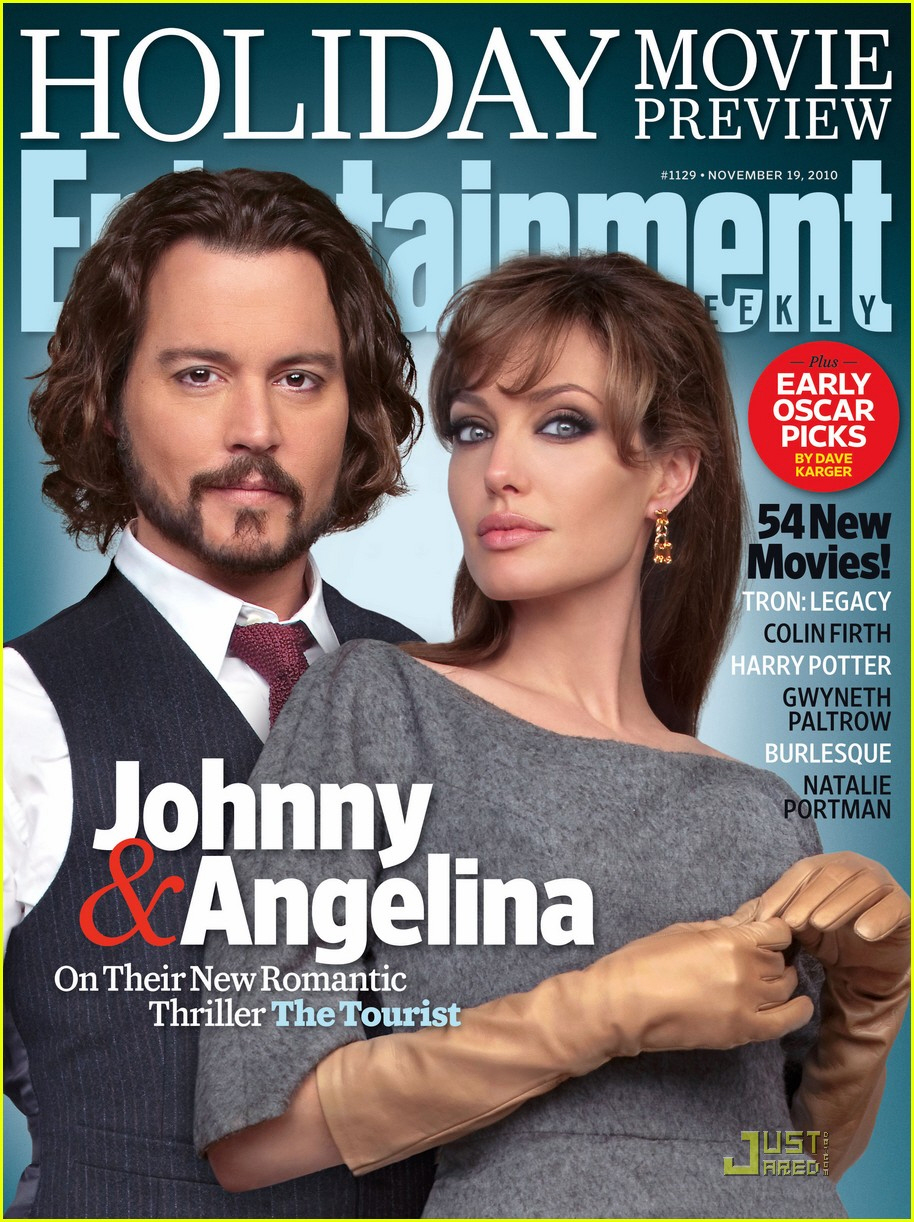 Today is like Christmas for Brangeloonies. First, we get
Angelina Jolie's Vogue cover
and a funny, interesting interview where she gushes about handsome Brad and the kids. And now we get Jolie all sexed up with Johnny Depp. Shockingly, Depp is the one who looks like he needs a nap, and Angelina looks strangely rested. I really think she must have that effect on men - Brad looks sleepy a lot too. Anyway, I guess Angelina and Johnny are previewing
The Tourist
, which comes out in mere weeks… let's see… it's being released in America on December 10. Less than a month, people!
Angelina Jolie. Johnny Depp. They're two of the biggest stars on the planet and, believe it or not, they'd never met before making The Tourist. Now, in this week's Holiday Movie Preview issue, the two A-listers talk exclusively to EW about their new Venice-set romantic thriller (a throwback to glamorous Euro capers like To Catch a Thief and Charade), the struggles they faced getting the pricey movie to the screen, and, of course, a blow-by-blow account of when they finally got together for the first time.

How was it possible that these two stars, who have made 70 films between them and live within an hour of one another in the south of France, had never met?

"We're both not that social," Jolie tells EW. "I don't think either one of us goes out of our house, especially in France. We're both locked away."

Depp admits that he'd always wanted to work with Jolie and was a fan, but wasn't prepared for the woman he actually encountered.

"So much has been written about Angie and Brad [Pitt]. They're sort of the Elizabeth Taylor and Richard Burton of our era. I knew she was a big star, but I didn't know what to expect…"

For the full story of how Angelina met Johnny and their upcoming film The Tourist, check out this week's Holiday Movie Preview issue of Entertainment Weekly, on stands Nov. 12.
[From
Entertainment Weekly
]
Johnny didn't know what to expect and…? What did he find? Did he find out that she likes to drink wine while attempting to manipulate him into bed? Did he find out that she guzzles Gummi Bears??!? I need to know!
Oh, okay, I found more excerpts:
Jolie on why she chose the film: "I wanted to do something that would be a great vacation for my kids. I got a phone call saying, 'Okay, the film's shooting in Venice,' and I said, 'I don't know what it is, but I'm going to say yes.'"

Jolie on exploring Depp's office: "As I was waiting, I noticed these beautiful pictures of his [girlfriend, actress Vanessa Paradis] and kids and all of his paintings. He's an artist, and you feel that in any space he's in. When he walked in, he was as interesting as I'd hoped he'd be."

Depp on being nervous to meet Jolie: "Well, there is sort of that. Because on one level it's like, 'Here we go, kid. We're about to get into the ring together.' We sat there and babbled about our kids, and it was a huuuuuge relief. I was pleasantly surprised that she has an incredibly perverse sense of humor. She's a really cool broad."
[From
Buzz Sugar
]
Oh, so she's a
"cool broad"
with an
"incredibly perverse sense of humor"
. Sounds like she tried to stab him with one of her knives when they first met and/or touched his dong. Also: why is Angelina hanging out in Johnny's office? Alone? I'm intrigued.
Cover courtesy of
Just Jared
.