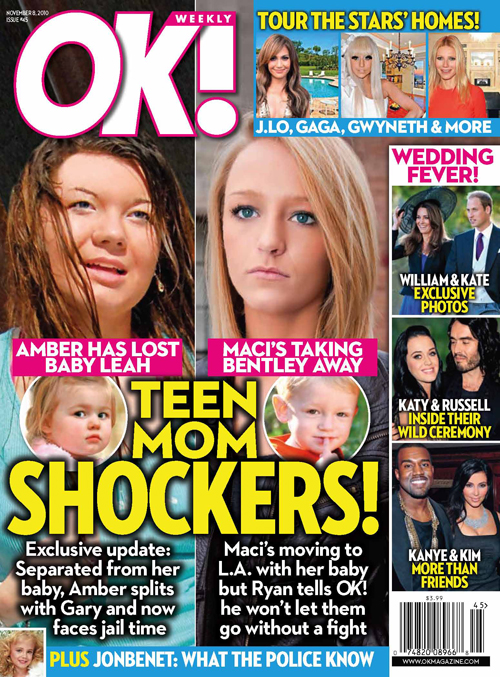 Neither Kaiser nor I watch Teen Mom, but we know the show is popular and several of you have commented that you watch it. These girls certainly are getting a lot of coverage lately. I guess their troubled lives are natural tabloid fodder. In the latest development, it looks like Amber, 20, hasn't lost custody of her daughter Leah so much as she's simply abandoned her to the care of her ex, Leah's dad. This season, Amber was seen choking and slapping her then-fiance, Gary, and getting up in his face for some perceived issue Gary had with her dad. That video is below. After Amber and Gary's breakup on October 19, OK! is reporting that Amber left her baby Leah with Gary and hasn't even called to see how she's doing. Life & Style backs up that account, and adds the detail that Maci is bipolar and potentially overmedicating. Here are those reports:




"The baby's with Gary. She's always with Gary. He's the one taking care of her." – Jordan Sanchez to Life & Style

It looks as if Gary Shirley has finally made the right choice regarding the two women in his life: his daughter Leah and her mother, Teen Mom star Amber Portwood. "Gary loves Amber, but he wants custody of Leah," Jordan Sanchez, who's been best friends with Gary since he was 14, tells Life & Style. In fact, he's already moved out of the apartment he and Amber used to share in Anderson, Ind. Says Jordan, " Leah is with Gary almost all the time."

With a possible domestic battery charge pending, Amber has a very real chance of going to jail for hitting Gary in front of their daughter. To cope, Jordan thinks Amber has turned to medication. He says she has a prescription for the addictive and powerful anti-anxiety drug Klonopin, often used to relieve panic attacks. Side effects can include severe drowsiness and dizziness. "I worry that she could be abusing it," Jordan says. "I've seen her take multiple Klonopin at a time. There are days where she sleeps until 7 o'clock at night."

Jordan says Amber's problems are extremely serious. "Gary has told me that Amber is bipolar," Jordan tells Life & Style. "It's gotten pretty bad. Gary told me that there have been several instances where Amber would say to him, 'Come home or I'm gonna kill myself,' and he'd fall right into her trap."

But since Amber's aggressive behavior has taken a turn for the worse, Gary has moved out and is the one doing most of the caring for Leah. "Amber's always beating on him, verbally and physically. What normal person would stay in a relationship like that?" - From Life & Style

It's been more than six days since 2-year-old Leah has heard from her mother, Teen Mom star Amber Portwood — not a single visit, no quick phone call or even a simple "I love you" message since the troubled young reality star and her beaten-down baby daddy, Gary Shirley, 23, broke up on Oct. 19, after yet another fight. - OK Magazine
[Sources linked in text]
In somewhat lighter news, OK! reports that Maci, 19, is planning to move from Tennessee to LA with her two year-old, Bentley. (Who names their kid Bentley?) This of course will go against the wishes of Bentley's dad, Ryan, who is no longer with Maci. I guess she's
on-again with a different ex named Kyle
, as she was spotted kissing the guy in a photo op at the pumpkin patch in LA.
For those of you who watch the show - is Leah better off with her dad? Should Maci move to LA? Would you recommend that we watch this show? From what little I've seen of the clips on MTV's website it looks pretty interesting.
Amber slapping and choking Gary:
Amber on why she hurts Gary "
I can't help myself
."