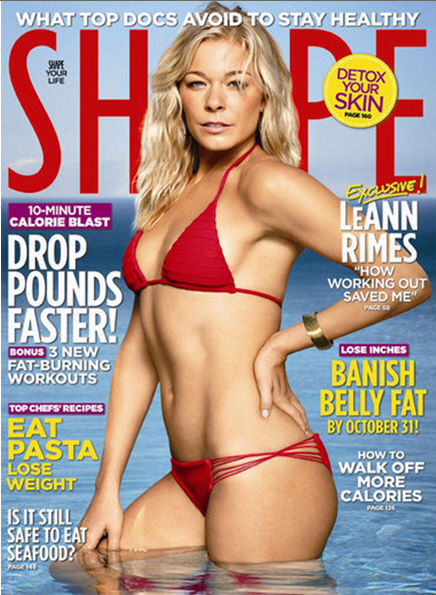 Shape
Magazine's editor sent out a very contrite apologetic e-mail to readers who were outraged by the
LeAnn Rimes cover and accompanying interview
, in which she called herself "America's Sweetheart" and talked about how hard it was for her to cheat on her husband and take up with a married father of two. "
After going through this, I know I can face anything
."
Although this statement was not made publicly, and
Shape
has refused to comment on the leaked e-mail (
obtained by TooFab
), I'm impressed with how they handled this. Compare this to the way that
Self's editor haughtily responded
to the controversy over Photoshopping Kelly Clarkson thinner or the way that
Marie-Claire's editor defended
their obnoxious 'fatties' article. Shape is better than that, and they're sorry.
Shape magazine's editor-in-chief has been forced to apologize to readers for featuring homewrecker LeAnn Rimes on its October cover, acknowledging it was a "terrible mistake" in an email exclusively obtained by TooFab, sent out to some readers.

Some readers were mortified that Rimes — who has admitted to cheating on ex-husband Dean Sheremet with then-married "CSI" hunk Eddie Cibrian — was glorified on the fitness magazine's cover with the sympathetic coverline, "LeAnn Rimes: How Working Out Saved Me."

TooFab has obtained the email that the magazine's editor-in-chief, Valerie Latona sent to those who expressed outrage over the cover:

Subject: To my dear Shape readers

You are all in good company (why I'm e-mailing you all together) as you all agree Shape has made a terrible mistake in putting LeAnn Rimes on the cover.

Please know that our putting her on the cover was not meant to put a husband-stealer on a pedestal-but to show (through her story) how we all are human. And this woman in particular found strength in exercise in what she said was her most difficult personal moment.

But it did not come across that way … And for that I'm terribly sorry.

I hope that we can do better the next time for those of you that will give us another chance.

Humbly,

Valerie

A rep for Shape had no comment.
[From
Too Fab
via
US Weekly
]
I'm so impressed with the way Shape's editor responded to this and just wish it was an official statement. LeAnn has of course responded to
Shape
saying they never wanted to celebrate her home-wrecking status. She posted two "twit longer" posts saying that Shape is throwing her a party next week.
Just so all my fans know, I'm getting to the bottom of this. It's the first I've heard of this. Shape is throwing me a party next week as a thank you and a congrats for being on their cover for the 3rd time. I find this very contradictory. I love you all!!
[From
LeAnn's TwitLonger
]
Maybe that's why
Shape
just sent out an e-mail to angry readers instead of issuing an official response. They wanted to kiss LeAnn's ass but let it be known that they never meant to celebrate what a piece of work she is. I can't blame them for trying to keep celebrities happy, but it's still disappointing that they're throwing LeAnn a party. If they want to improve their image further they'll cancel that party on some thin pretext. There's nothing to be gained by continuing to align themselves with this nasty petty person.