Posted by

Orhan Bülbül
Labels: Rihanna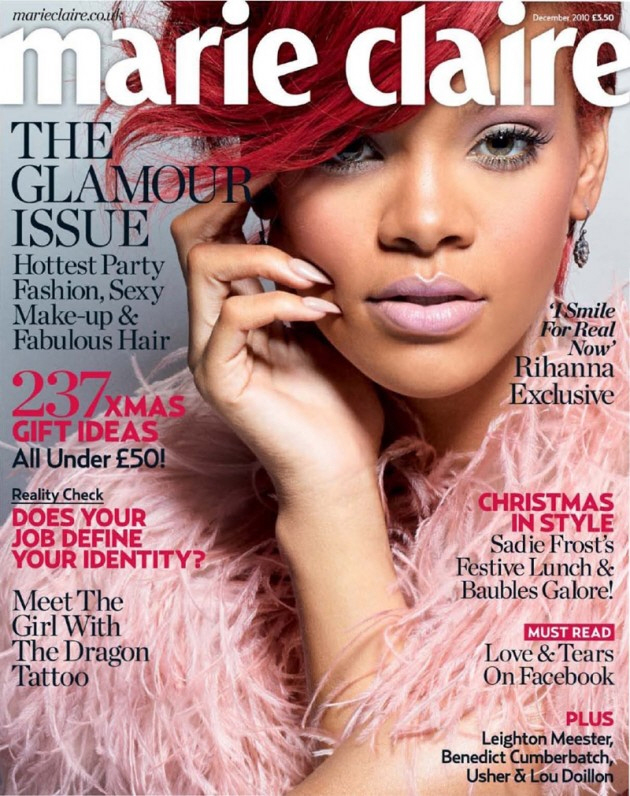 Rihanna is the cover girl for the December issue of
Marie Claire UK
. I'm totally meh on the photos just because of Rihanna's fruity Raggedy Ann hair. It cheapens any high-fashion look… and Marie Claire is attempting to be "high fashion" with Rihanna. Instead, the shoot just looks budget and trashy, and I mostly blame the hair. Anyway, in the interview excerpts
(courtesy of Bossip)
, Rihanna talks a lot about Chris Brown and the hard time that she went through after Chris beat the hell out of her. She also talks a little bit about her hot boyfriend Matt Kemp:
A year and a half after her terrible assault by ex-boyfriend Chris Brown, Rihanna oozes confidence in a beautiful photoshoot. Striking a fierce pose with her hand on her hip and her smouldering gaze on the camera, she is a completely different person from the heartbroken young woman whose battered face appeared in police photos in February last year. But the memories of that night still linger in the 22-year-old's mind, and she has finally opened up about how she felt during that dark period.

"God has a crazy way of working, and sometimes when stuff happens you feel like, 'What did I do to deserve this? Why was it backfiring on me?'" she says in an emotional interview in the latest issue of UK Marie Claire. "I was very lost. I have to say I felt really confused. I hate talking about it but it was really crazy because I felt so out of touch with myself and when that happens."

"It's scary because nothing you say or do feels like it's you," Rihanna says through tears. "You just lose touch of everything that you love and everything that you would normally do; how you would dress or how you would say something. It just feels like it's not coming from you. It's just this one empty vase. I felt like an empty vessel."

She has also revealed when she realised she needed to end the three-year relationship for good: "Eventually, I remember waking up one day and I knew I was over it," she says in the new issue of UK Marie Claire. "One day. I remember I was in New York at the Trump Hotel and I woke up and I just knew I was over it. I needed that wake-up call in my life. I needed a turning point, and that's what God was giving to me."

Rihanna attracted plenty of criticism for her brief reconciliation with the No Air singer – currently completing his court-ordered community service – after the headline-making assault.

"All this terrible stuff they say to you, it breaks you down," she says of that time. "[But] once you're back on your feet – if you ever make it back on your feet – that's the ultimate achievement."

Now dating US baseball star Matt Kemp, Rihanna says she has now moved on and is happy again. "I feel like I smile for real this time. The smiles come from inside, and it exudes in everything I do. People feel my energy is different. When I smile they can tell that it's pure bliss and not just a cover up."
[From
Marie Claire UK via Bossip
]
I like how Rihanna says she
"hates"
talking about the Chris Brown situation even though she's given several dozen interviews about it over the last year. I mean, I get it. She's made her peace with the situation and she's trying to educate about domestic violence, and she probably still gets a lot of questions about it. But I'd like her to start taking a pass on some of the questions at this point, you know? It's begun to feel like she's saying
"Buy my album because I got beaten."
Moving on, that is good for Rihanna about the Matt Kemp situation. He truly seems like a sweet guy, and I like how seemingly low-key they are together. They don't do a lot of events as a couple, and they're not pushing it in our faces. Now, do I see Rihanna and Matt together forever? No, not really. I think Rihanna still has some growing up to do.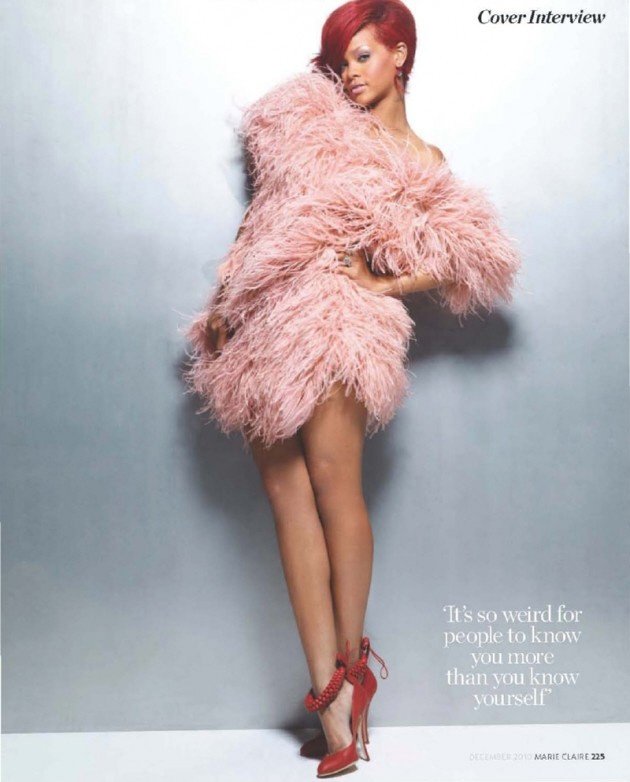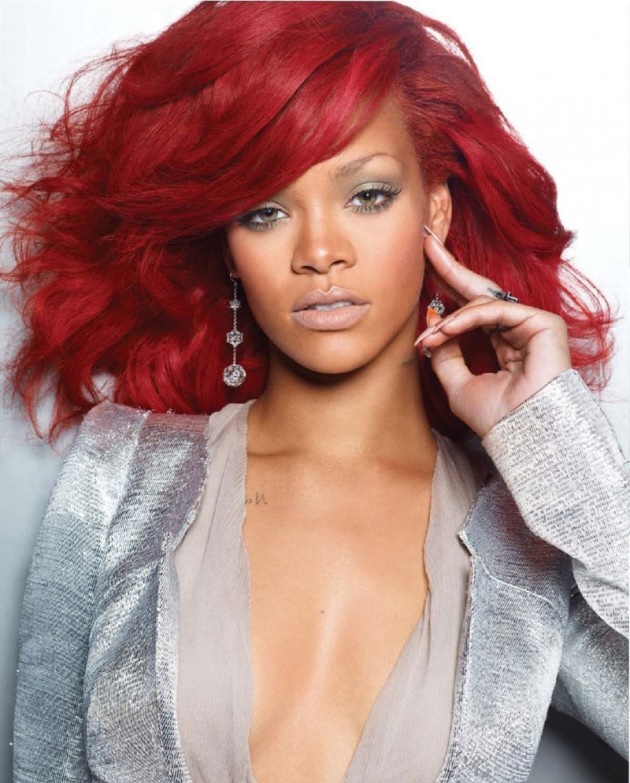 Marie Claire photos
courtesy of Bossip
.