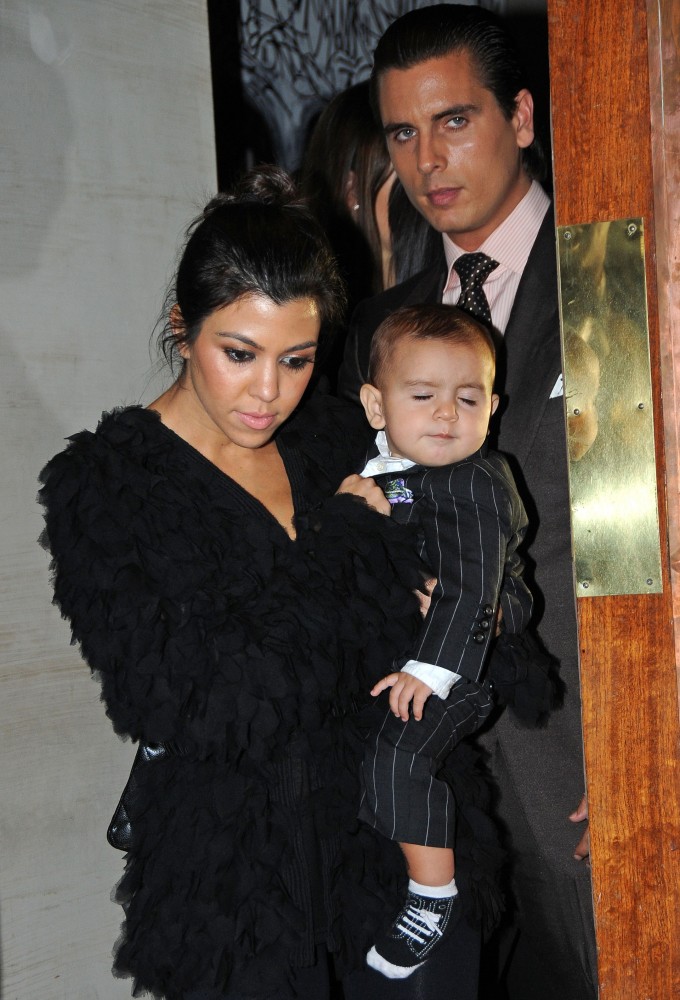 Question: what the hell is going on with Kourtney Kardashian's face lately? Why is Khloe the only Kardashian woman who does not look like she's a regular at the plastic surgeon's office? Anyway, Khloe and Scott Disick's relationship takes the cover of two tabloids this week - Star's story is all about Kourtney and Scott planning to elope, while In Touch Weekly is running a story about Kourtney fooling around. And NOT with her baby-daddy Premo Stallion! Speaking of Premo, look at Mason-Dixon! He's so cute. There really isn't much doubt in my mind that Mason has no Disick genes. HAHA. Anyhoodle, here's the run down on the competing cover stories: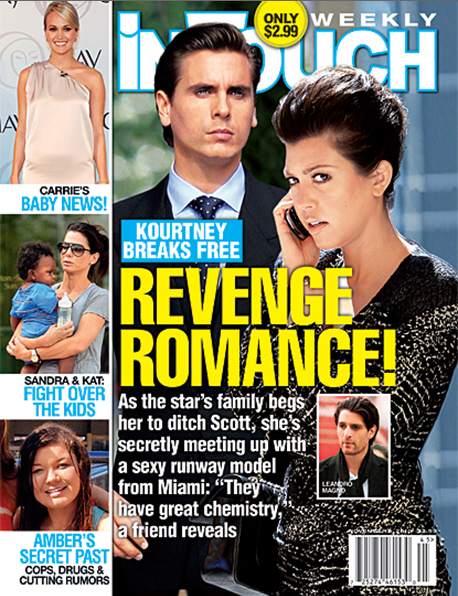 While InTouch Weekly's cover is claiming Kourtney is breaking free from Scott Disick, Star Magazine is reporting Kourtney and Scott are eloping – yes – eloping! So – not only do the two tabs have the same couple – but they have completely opposite stories. What a disaster!

Let's take a closer look at each cover. InTouch Weekly says Kourtney is "secretly meeting" with a sexy runway model from Miami. His name is Leandro Magno. He not only sounds sexy – he looks sexy. Check the inset pic.

If this story is true, I say go for it Kourtney! But sadly, (just from looking at the cover – cause that's what readers at the checkout do), I have a feeling this is making a mountain out of a molehill (sorry for the cliche!).

But, if Kourtney was really having a revenge romance, would the mag say "secret meeting?" I don't think so – it would say something like secret hook-up.

Plus, the quote "They have great chemistry" is boring and doesn't make me believe it's really happening.

Meanwhile Star Magazine makes the bold statement that Kourtney and Scott have ELOPED! How can they say this when it's not true?

Take a look at the line above "ELOPE." It says Kardashians' worst fear – which means it has not happened yet.

So, what's the bottom line? While InTouch's details are weak – it's the stronger cover for one simple reason. The reader wants Kourtney to leave Scott — not marry him!
[From
CoverAwards
]
Yes, I'm one of those people who wants Kourtney to dump Scott, just because I think he's a violent, alcoholic bastard who will eventually slaughter the entire Kardashian-Jenner family, starting with Khloe and Kris. I also wouldn't put it past Kourtney to fool around on Scott - even with some model. Don't we all know a girl a like Kourtney? She's the girl who sticks with a guy for years of on-and-off bullsh-t and fooling around to the point where all of her girlfriends are like "For real, he's an awful, mangy douche, and I'm cutting you off if you don't dump him" and that just reinforces your girlfriend's idea that she and douche are the only ones who understand each other and their love is dangerous and exciting and unlike everybody else's love. Ugh. I hate Kourtney. She's so dumb.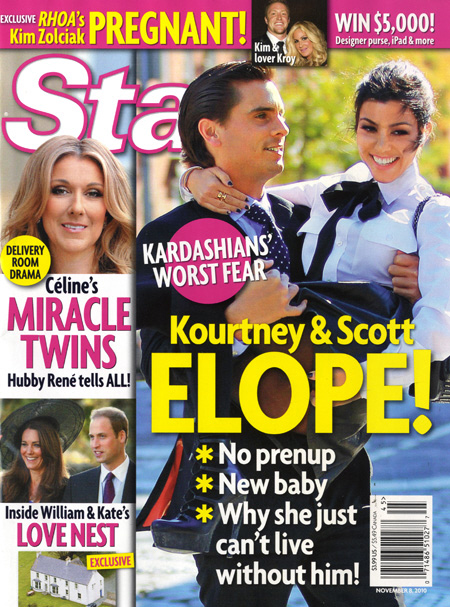 Star & ITW covers courtesy of
CoverAwards
. Additional pic by
Bauer-Griffin
.