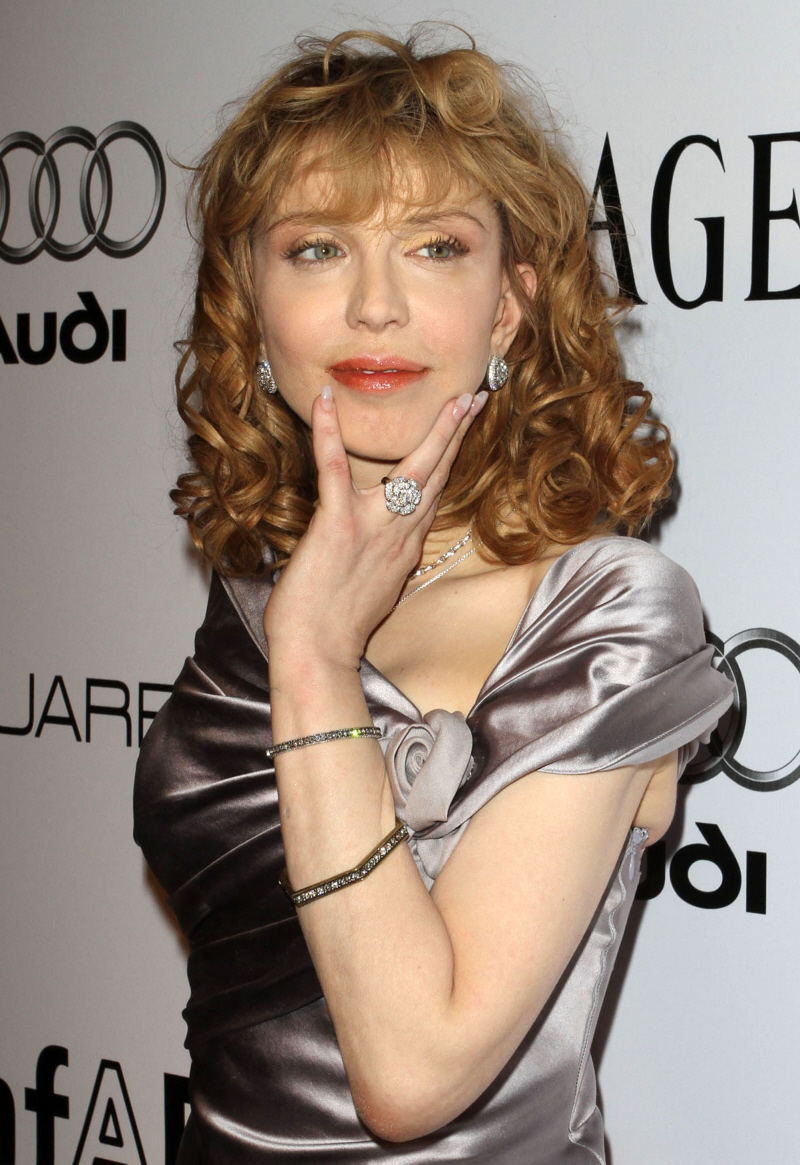 Back in Septemeber,
Courtney Love
showed up for several events l
ooking really great and really "refreshed"
. Many (like me) thought that Courtney had gotten some plastic surgery to
de-crackify
herself. Courtney rejected those theories, claiming her new face was
the result of "chanting."
Well, I guess the bitch stopped chanting, because Courtney stepped out last night for an AIDS charity gala looking like her old crackhead self. I'm going back and forth on this though -
The Daily Mail
claims that Courtney had a facelift which "fell" rapidly - although I think it might be just bad hair, bad makeup, and bad skin care.
She has been looking suspiciously fresh-faced of late, prompting speculating of a possible face lift. But Courtney Love appeared back to normal last night as she worked the red carpet at the amFAR Inspiration Gala in Los Angeles, with lines around her eyes and mouth.

Last month she denied reports of a 'stem cell face lift,' where a patient's complexion is revamped using their own grafted fat tissue. Her appearance at last night's event is to be expected of a 46-year-old who has led a hard-partying lifestyle for years.

It was widely reported in September that Love had been paying visits to a Park Avenue surgeon in Manhattan, but the Hole singer put her refreshed look down to yoga and darkening her previously platinum blonde hair. The treatment she was thought to have undergone, which lasts five years, plumps up and tightens the skin and stops the neck from sagging.

And while she certainly looks more together than previous red carpet stints, the porcelain doll appearance that prompted the speculation seems to have disappeared.

The singer wore a floor-length silver gown for the gala, held at the Chateau Marmont in Los Angeles, which was hosted by Kylie Minogue to benefit amFAR's AIDS research programs.

She appeared to struggle with deciding on what to wear, clogging up her Twitter feed earlier in the week communicating with designers about possible outfits.
[From
The Daily Mail
]
I think it's possible that Courtney didn't get a "facelift" per se, but was perhaps going in for some non-invasive treatments for her skin, and when she doesn't go in regularly for those treatments, her face re-crackifies. I also think the terrible mom bangs trauma and the strange reddish tint in her hair is doing her no favors.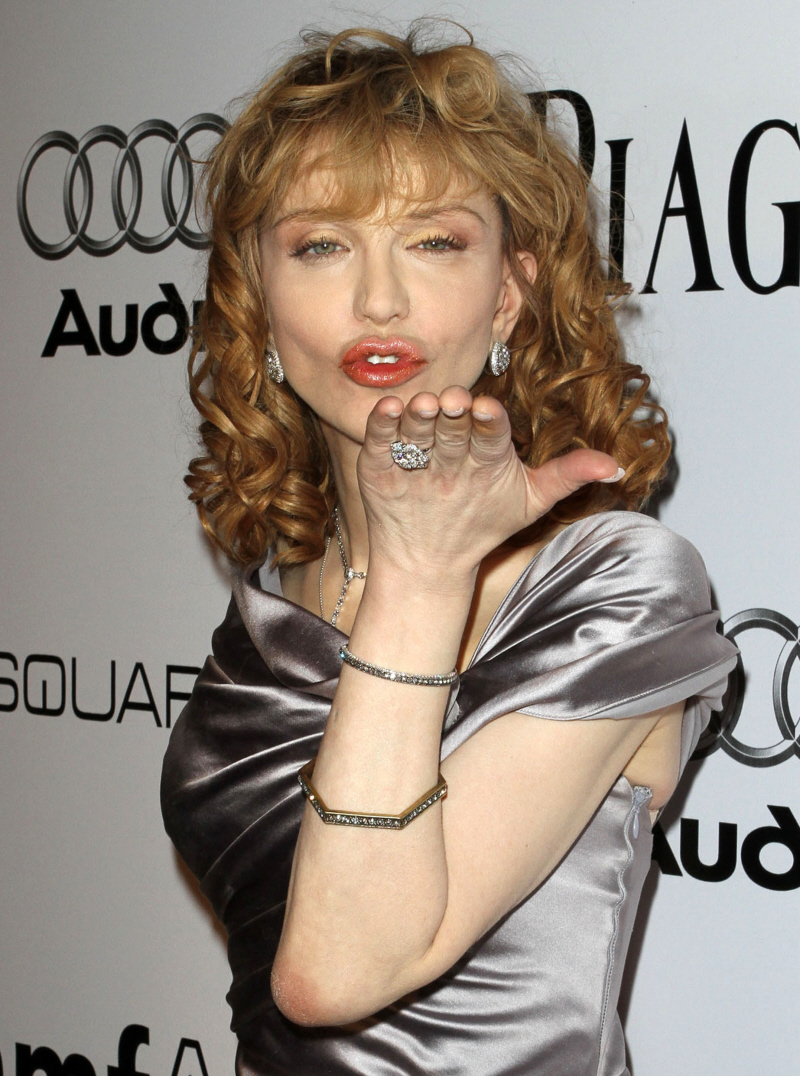 Photos courtesy of WENN.