Here is Jennifer Love Hewitt showing off a new haircut, which she likely got immediately post-split from Jamie Kennedy. I really like the cut - I had my hair like this ten years ago, the only time I've ever had it short. It compliments Love's face. The cut didn't do that to mine. Sigh… I love my long hair.

Meanwhile, the tabloids are still pouring over Love's breakup, and they've found who to blame: Jennifer Love. According to Life & Style's sources, "There's a pattern here… Jennifer's relationships start out great, then she becomes jealous and insecure." Apparently, Love was constantly checking on Jamie, to the point of going through his caller ID and his messages. A source says: "Jennifer will even call ex-girlfriends of the guys she's dating." Which seems weird until other sources chimed in with the idea that Jamie might have actually been cheating. Apparently, he "spent a little too much time with an ex-girlfriend" which is an allegation we've heard before, and one which Kennedy denied. Do I believe his denial? Meh. The Enquirer follows a similar thread, with other sources claiming that Love was obsessed with knowing where Jamie was at all times, and while Jamie was happy to be on a "short leash" at first, he soon grew "depressed" because of the emotional claustrophobia.

Star Magazine is taking a (not so) different tact, claiming that Jennifer was too self-centered to make a relationship work. Their sources claim: "With Jennifer, it's all about her and her career. She wanted a guy who was focused on her… she wanted him to give up his comedy act. He was a comedian first and love it, but she didn't like that it took him away a lot and that there were always groupies hanging around the clubs." Um… let's stop right there. Jamie has groupies? Seriously?!? Ladies, stop it. If you are a Jamie Kennedy groupie, you really need to aim higher. Beyond the groupie thing (which I still don't buy), I could see Jennifer having a problem with Jamie going on stand-up tours. I mean, that's a lot of time away. If she did complain, I don't really blame her.

And finally, In Touch Weekly is the only tabloid that is running with the story that Jamie is actually "desperate" to get back with Love. Apparently, Jamie was really close to proposing when Love dumped him (because she was tired of waiting for him to propose, ironically), and now he's in "shock".

My take? I'm guessing parts of these reports are true. I think Jamie probably had some very friendly relationships with a couple of girls, but he probably wasn't cheating. And yet, those relationships were enough to drive Love crazy, so she got all jealous and territorial, and she ended up driving him away. But now that he's gone, she doesn't really miss him. That's just my guess!
Sidenote: Look at her shoes! I want them.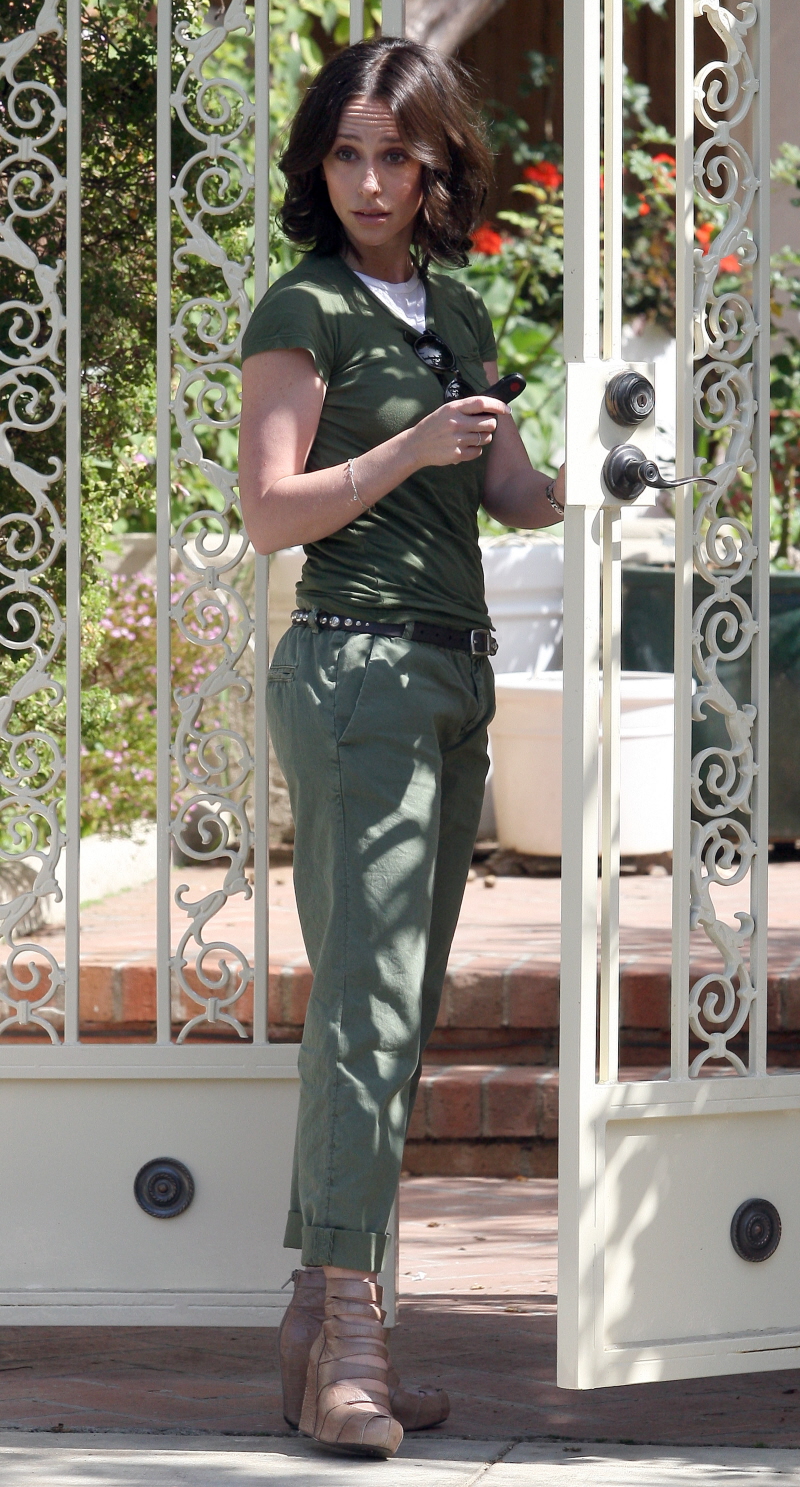 Jennifer Love on March 20 in LA, credit: RIV/Fame Pictures.